SIEGENIA Comfort
The app-based solution for smart control of windows, doors and ventilators.

The universal remote control with numerous additional functions for all SIEGENIA smart systems.
The SIEGENIA Comfort app allows you to operate all SIEGENIA "smart" products remarkably conveniently and intuitively via smartphone or tablet. A wireless or infrared remote control is no longer needed. On the contrary, the app elevates the ease of use to an entirely new level with numerous additional functions: from smart automatic and timer functions to individual adjustment options and extending to the easy coupling of drives, ventilators and sensors for a perfectly automated indoor environment. And thanks to feedback on the device and command status, you can keep everything under control.
Smart motors for sliding doors.
DRIVE axxent HSA smart
MHS400 smart
MSA400 smart

Smart motors for entrance doors.
Smart motors for windows.
DRIVE axxent DK
DRIVE axxent

Smart ventilation and sensors.
AEROMAT VT WRG
AEROPAC smart
AEROVITAL ambience smart
AEROTUBE WRG smart, AEROTUBE AZ smart
senso secure

Extremely easy commissioning.
The WLAN module is integrated as standard in SIEGENIA "smart" devices. For control via the app, only integration into the existing WLAN network is required. This functions as quickly and easily as with a smartphone. If no home
network is available, the "smart" device can also be directly connected to the smartphone or tablet. In this stand-alone operation it provides its own WLAN network like a WLAN router. In SIEGENIA systems with external "smart modules" the only additional requirement is their mounting on the device.
Convenient operation of all SIEGENIA "smart" devices over WLAN via smartphone or tablet with wide ranging additional functions
Simple coupling for a healthy, automated indoor environment: link "smart" sensors, ventilators and window drives together
Free app solution from iOS 8.0 and Android 5.0
No need for an additional remote control
Optimal control due to feedback of the device and command status
Secure SSL encryption
Development of attractive target groups and targeted customer loyalty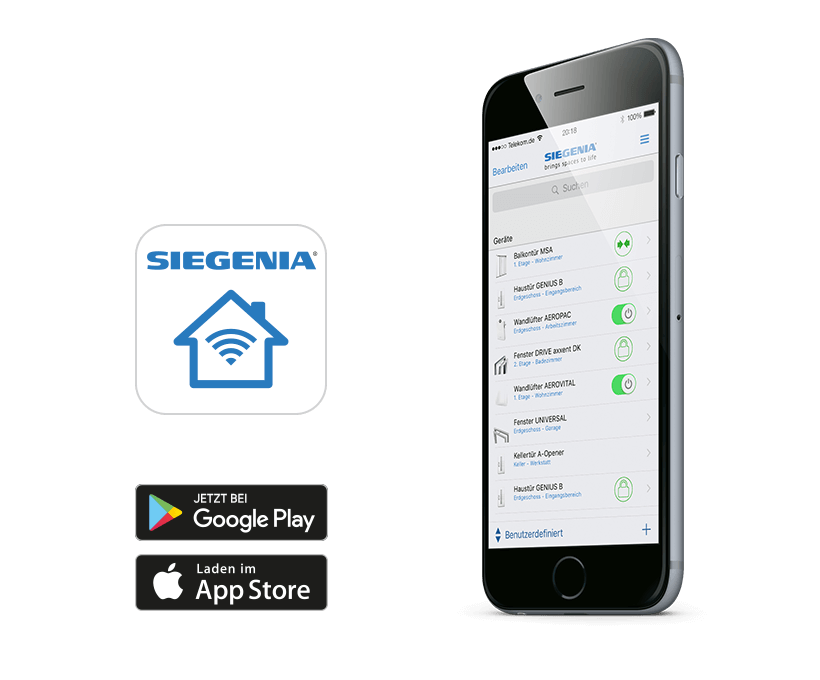 Quick and flexible commissioning of "smart" devices on site – possible at any time
Simple integration into home network or direct connection to the WLAN module in stand-alone mode – for example on building sites
Supporting installation assistant in the app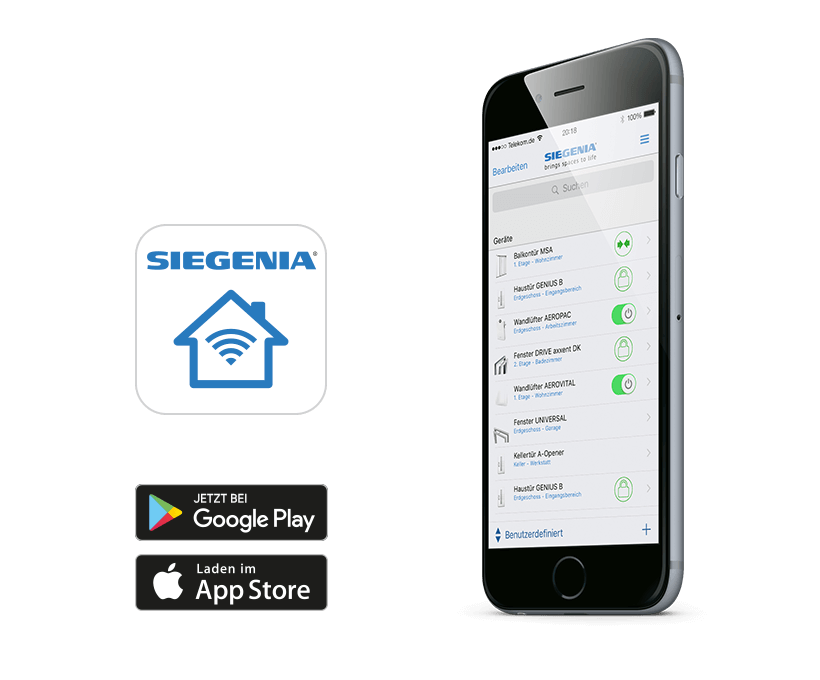 The clever upgrade to smart control.
Even for SIEGENIA products in which the WLAN module is not yet integrated as standard, there is a fast solution for control via app: a "smart module", which is mounted to the device with a simple plug connection. Thus the control works via the SIEGENIA Comfort app as usual both in stand-alone mode and when integrated in a WLAN network.
Smart module universal – WLAN module
Workbench film
Smart comfort with the SIEGENIA Comfort app
Roomcomfort film