AEROPAC
Compact, sound absorbing ventilators, as quiet as a whisper, with high air throughput, filter technology and CO₂-regulation.

The tried and tested active or passive solution for fresh air without noise.
The AEROPAC wall-mounted ventilator has been employed well over 100,000 times as a solution to increasing air and noise pollution. It supports a calm and healthy indoor environment with a sound absorbing fresh air supply. The AEROPAC possesses a powerful fan that is as quiet as a whisper, making its use in larger rooms possible. The multi-level air throughput can be conveniently regulated and programmed via the LCD display – or also via app in the "smart" version. The three optional filters provide effective protection against pollen, fine dust and further environmental pollutants. In contrast, as a passive vent, the AEROPAC DD uses only the natural pressure differential for demand-based ventilation. The AEROPAC IE and AEROPAC IE smart variants are equipped with CO₂-regulation as standard.
AEROPAC SN: active sound absorbing ventilator with filter technology
AEROPAC SN smart: additionally with WIFI for operation via app
AEROPAC IE: active sound absorbing ventilator with CO₂ regulation
AEROPAC IE smart: additionally with WIFI for operation via app
AEROPAC DD: passive sound absorbing ventilator
Even, draught-free and super quiet fresh air supply through the outside wall
Optimum sound absorption for a quiet, peaceful sleep
Amount of air can be controlled via lateral slider
Extremely small dimensions and elegant, high-gloss casing
Can be subsidised up to 100%
Further benefits of AEROPAC and AEROPAC smart:
LCD display: air flow regulation and timer programming
3 optional filter cassettes: (coarse dust, activated carbon, pollen / fine dust filter)
Simple filter exchange with display indicator: open ventilator hood, remove filter cassette, clean or replace filter
Operation via the SIEGENIA Comfort app (only with AEROPAC smart)
AEROPAC IE and AEROPAC IE smart: with standard integrated CO₂-regulation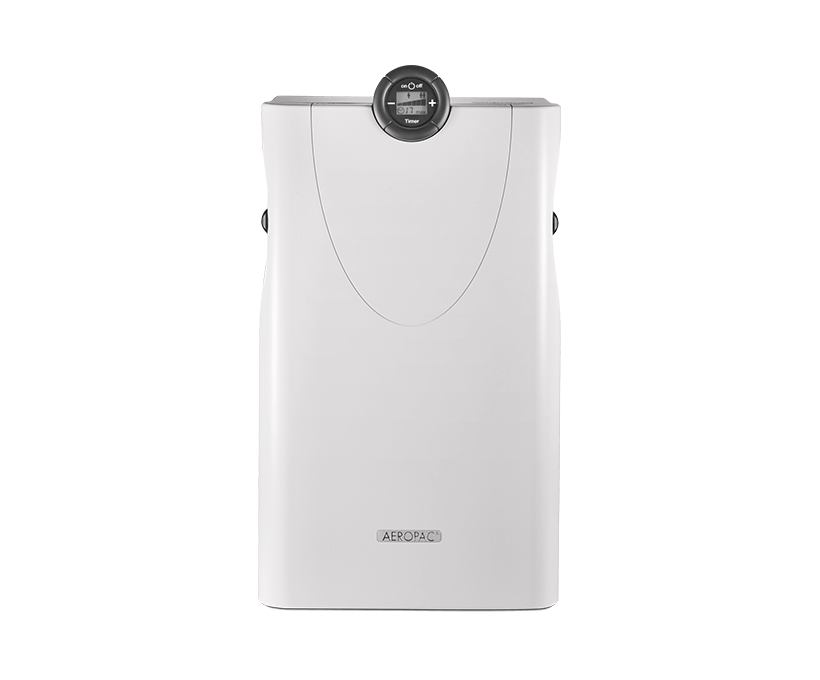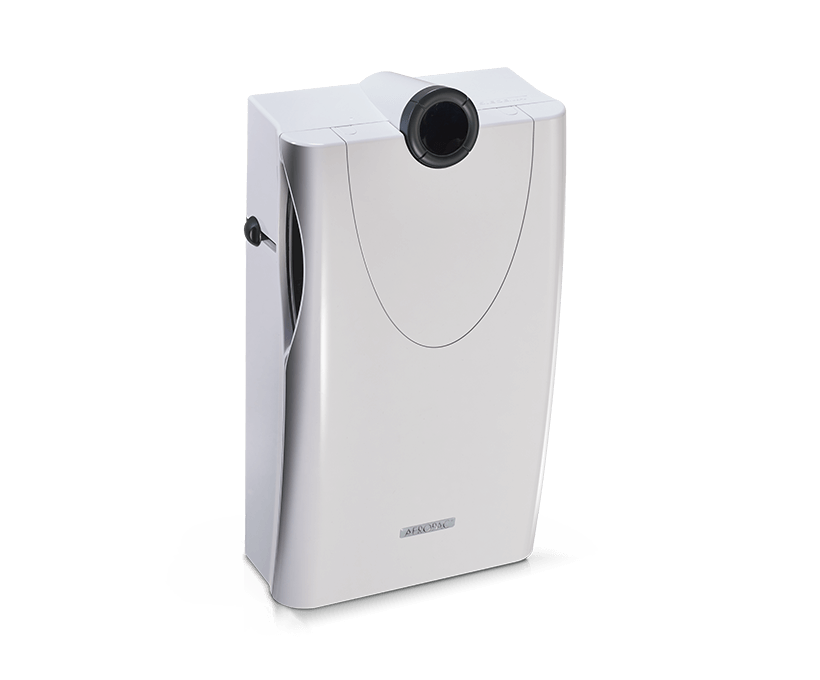 Easily and neatly installed with one core drill hole in approx. 45 minutes
Alternative installation with vent duct for composite thermal insulation systems, for example
Optionally easy to install on the sill
Suitable for renovations and new builds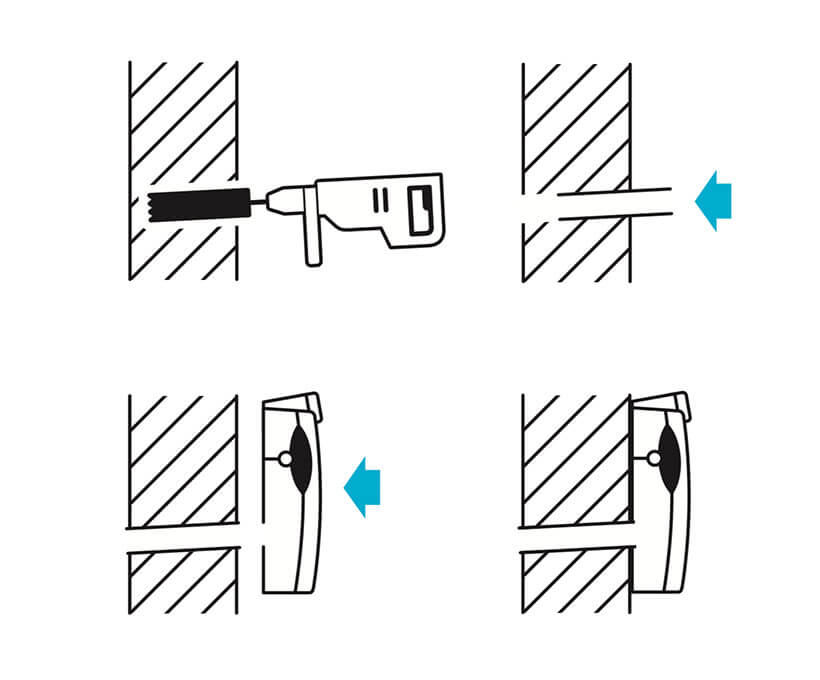 Dimensions, H x W x D: 467 x 270 x 132 mm
Sound absorption, Dn,e,w: up to 50 dB
AEROPAC
Air throughput as active ventilator with fan: up to 160 m3/h
Inherent noise: 20 dB(A) at 60 m3/h
AEROPAC DD
Air throughput as passive ventilator (DD): up to 31 m3/h at 10 Pa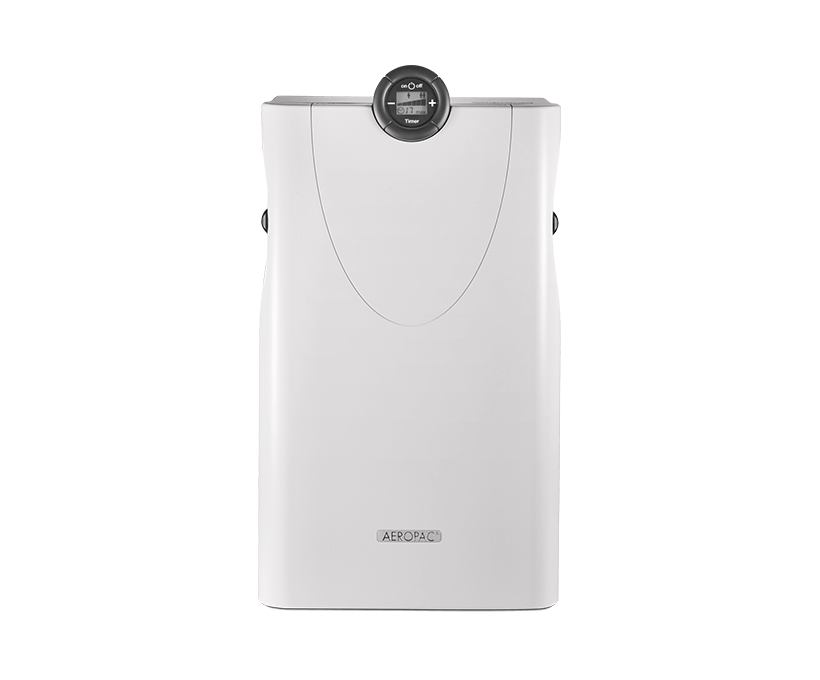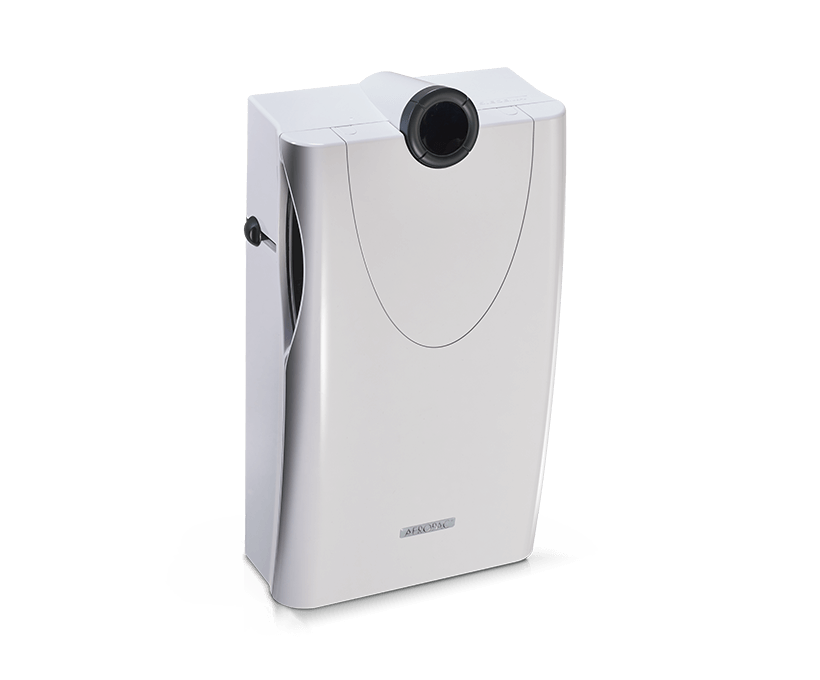 Ultra-quiet high-performance and clever filter technology.
In combination with sound absorbing windows, the AEROPAC active sound absorbing ventilator makes your own four walls an oasis of tranquility and relaxation in spite of road traffic, aircraft or railway noise. And thanks to three different optional filters, other environmental problems such as fine dust and pollen stay outside too. The multi-stage, demand-based air throughput of this small all-rounder consumes only 5W at 60 m3/h. It can be conveniently adjusted via the LCD display and programmed through the timer function. In addition, the air flow can be regulated via lateral sliders.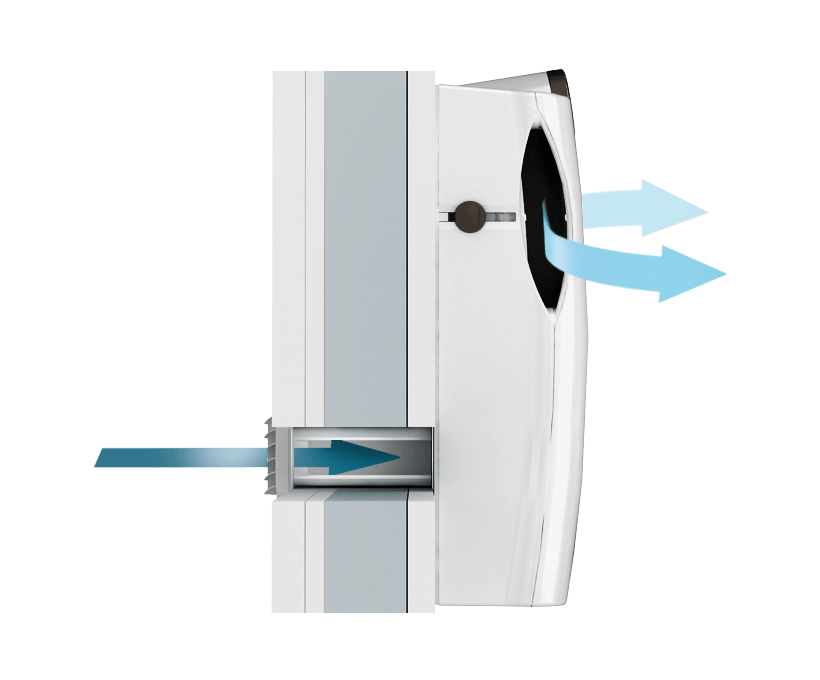 Even greater ease of use via an app: AEROPAC smart version.
The "smart" version of AEROPAC is equipped with a WLAN control. It can therefore be easily and conveniently operated with a smartphone or tablet via the SIEGENIA Comfort app.
Control via smartphone or tablet with the SIEGENIA Comfort app (from iOS 8.0 and Android 5.0)
Set the blower levels
Timer setting
Filter change indicator
 Direct operation of the WLAN-capable devices or integration in the home network is possible
Secure SSL encryption and intuitive commissioning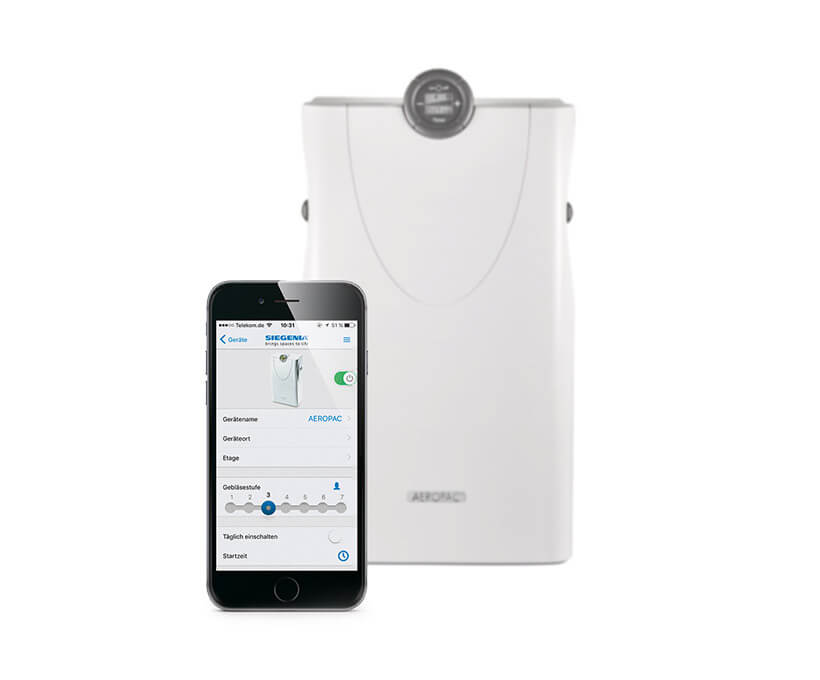 Plentiful fresh air: solely due to the natural pressure differential.
AEROPAC type DD operates as an energy-saving pressure differential ventilator. The room is ventilated as the indoor and outdoor air pressures are equalised. As a rule, the fresh air flows into the room from the outside. According to weather conditions, the wind pressure can increase the volume of air flow. This can be conveniently regulated manually via sliders on both sides of the casing.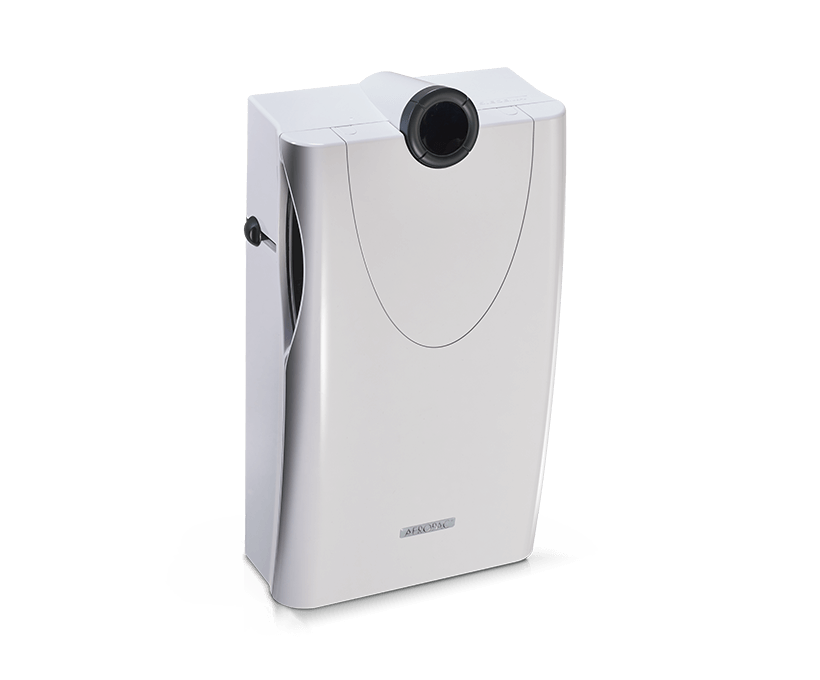 Air quality sensors for the best indoor air.
AEROPAC IE and AEROPAC IE smart with integrated CO₂-regulation as standard. This means that spent air is easily detected and the air exchange is adapted according to demand via the automatic mode. The quality of the indoor air is made visible at a glance via the traffic light display in the SIEGENIA Comfort app. Hence,
a high quality of air is guaranteed at all times and the risk of viruses in the indoor air is significantly reduced.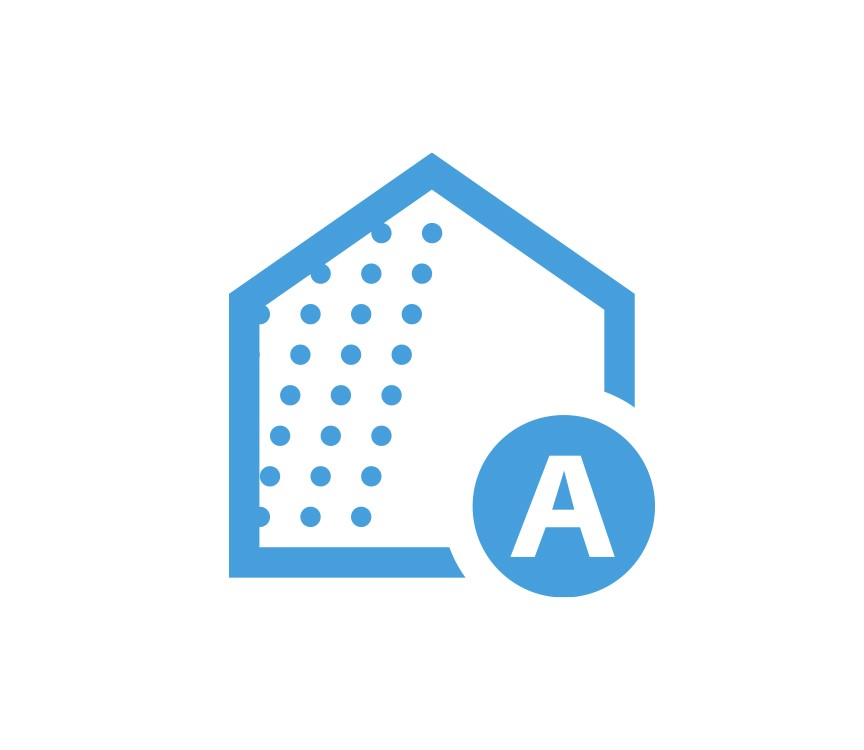 The best filter solution against nitrogen oxides, fine dust and pollen.
With the NOx filter you not only offer the solution against pollen and fine dust, but also against nitrogen oxides. In large cities you can achieve significantly better fresh air quality. The NOX filter even pulls the finest harmful or irritants from the air and was specially developed for nitrogen oxides, which are mainly caused by combustion engines and combustion systems. In particular, nitrogen dioxide (NO2) is highly contained in car exhaust gases and can become a serious problem for asthmatics.
Protection against nitrogen oxides, especially NO2 from car exhaust fumes
Protection against pollen, valuable for allergy sufferers
Protection against fine dust (filter class ISO ePM10 50%)
can also be easily retrofitted or exchanged
Maintenance reminder via a filter change indicator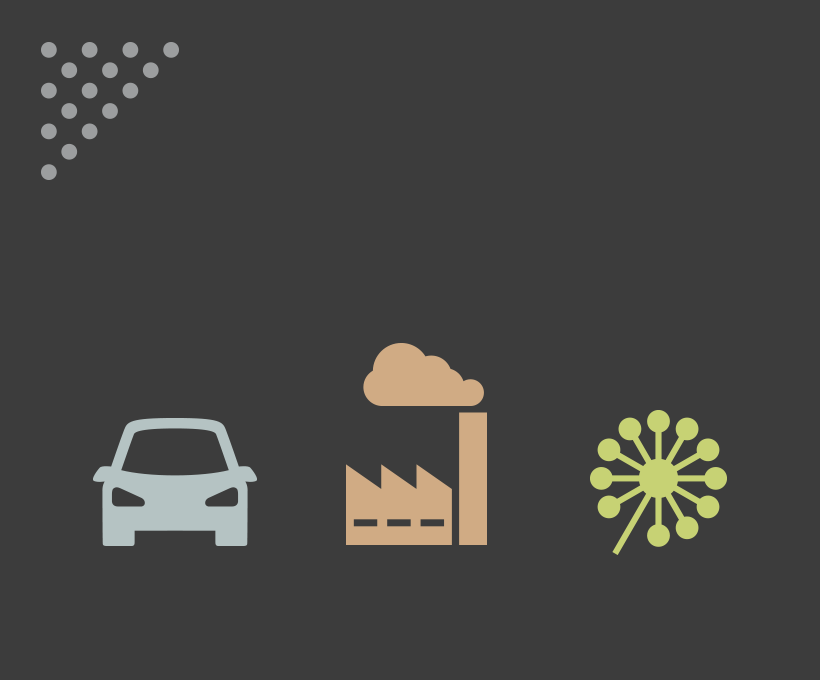 Clear design, clear benefits: installation with vent duct EPP.
With the EPP vent duct, you will achieve a clear, unobstructed facade view and simultaneously optimise the sound insulation. And this also increases your freedom of design, as the vent duct allows a wide range of construction situations to be realised within the facade.
Flexible adjustment to the building structures
Undisturbed view of the facade due to concealed installation
Flexible installation possibilities: in or beside the window reveal
Increased sound insulation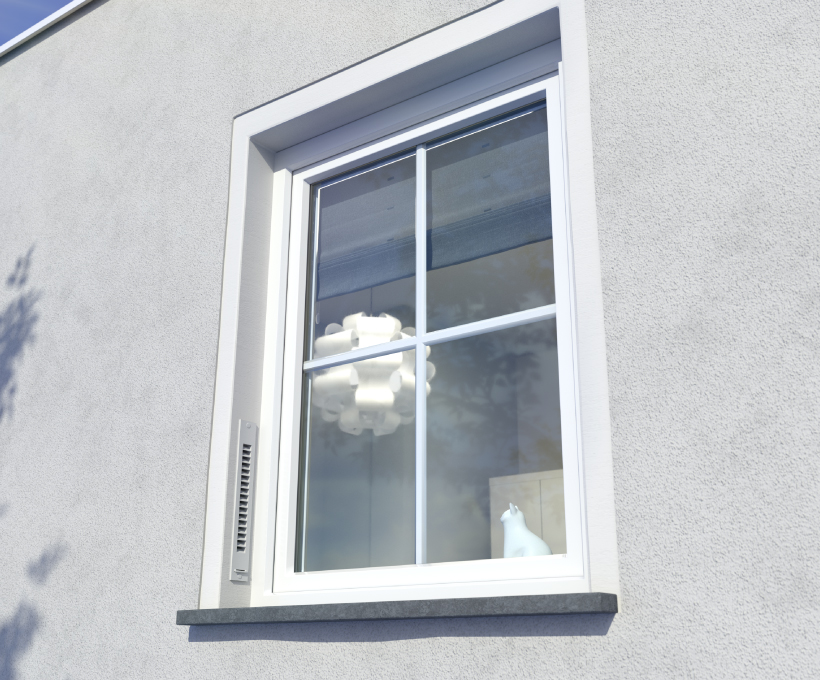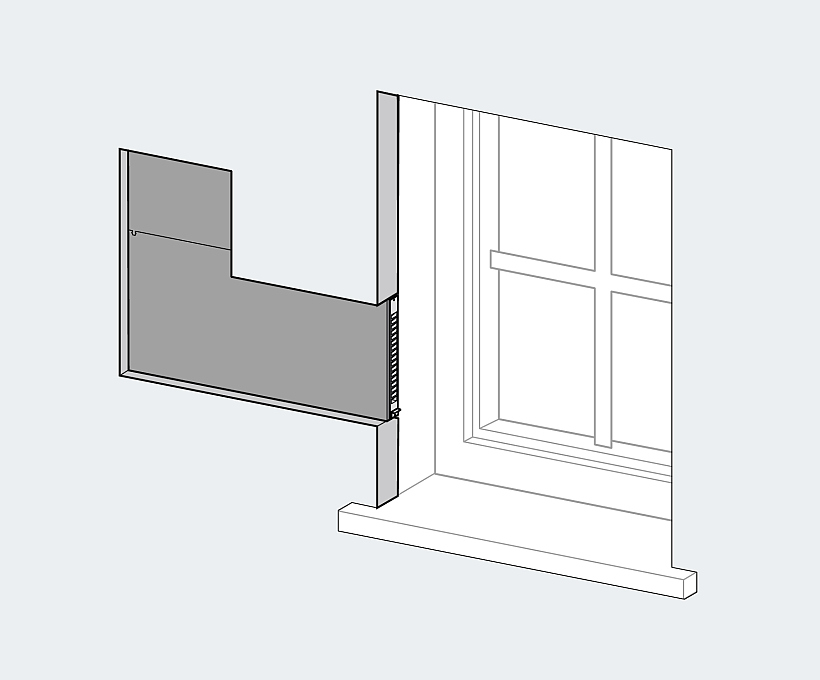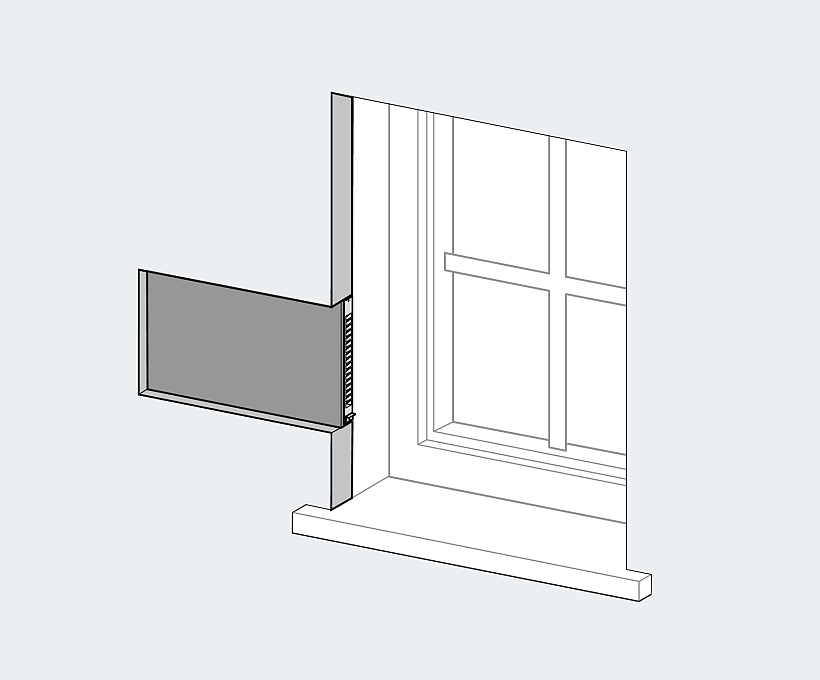 Operating mode of AEROPAC
Workbench film