GENIUS
Multi-point lock for electromechanical locking and unlocking.

The fully motorised solution for greater comfort and security with optimum sealing.
GENIUS combines the security of a mechanical multi-point lock with the comfort of state-of-the-art electronics. The 2.2 version is equipped with integrated control electronics and a powerful gear motor. This quickly and quietly locks and unlocks both the round bolt-hook bolt combination in the auxiliary lock case and the main lock bolt, and also ensures maximum sealing. Depending on the version, the GENIUS can be combined optimally with access control systems and many other applications. Even connection to existing third-party systems is possible thanks to the innovative IO modules. This opens up a wide range of possibilities in private and commercial construction which, with the GENIUS 2.2 PANIC, range from the electromechanical solution to emergency exits and panic doors that comply with EN 179 and EN 1125.
GENIUS EA:
With integrated control electronics and electronically controlled gear motor
Can be combined with external access control systems or the KFV wireless or transponder system for convenient, electromechanical unlocking
GENIUS EB with supplementary equipment:
Can also be combined with external systems such as clock timers, motorised door drives or alarm systems
With integrated access control system for connecting the KFV fingerprint identification or the KFV IR access control
GENIUS CA and CB - like the GENIUS EA/EB version, but with comfort function:
Quick "comfort" opening mechanism: easy unlocking also possible via the lever handle on the inside of the door
Greater ease of use: quick ultra-quiet electronic locking and release of all locking elements including the deadbolt in the main lock
Permanent lock monitoring system and standby operation without cool down phases
Optimal sealing: lower energy costs, protection against door warping
Can easily be combined with various access control systems: KFV Fingerprint Scanner, KFVkeyless and many other applications like motorised door drives, interlock systems, alarm systems
Manual locking and release via cylinder at any time – even during power failure
Menu navigation and status messaging in installed state by coloured LED
Digital RS485 interface for diagnostic, updating and control purposes
GENIUS 2.1 Motor:
The same size variants and identical frame parts as with standard KFV multi-point locks
Only one additional milling groove for the GENIUS motor
Identical milling dimensions of main lock and secondary lock
Low installation width of only 16 mm and a minimum installation depth of 52 mm
Ultra-easy installation due to optional plug-and-play solution
Plug-and-Play solution:
Simple ordering, only one material number per set
No missing components for the assembly
Error minimisation due to prefabricated cable with safe plug coding
Commissioning without qualified electrician
Future-proof due to possibilities for extension
Versions with frame-integrated power supply or for top hat rail mounting / KFV Fingerprint Scanner or KFVkeyless
Sets for timber, metal and PVC doors
Clever Plug-and-Play Sets: Simply more efficiency.
Thanks to predefined Plug-and-Play sets, you can obtain all necessary components for the GENIUS with one single order number – for entrance doors of all frame materials and with a wide range of prefabricated components. This ensures quick and errorless sequences from order to commissioning.

Only one order number for one complete set: including access control system, power supply and all necessary cables
All components are in preassembled, modular kits
Snap-in plug connections, protected against polarity reversal: No electrician required
Networking with third-party systems
Boundless networking: thanks to IO modules.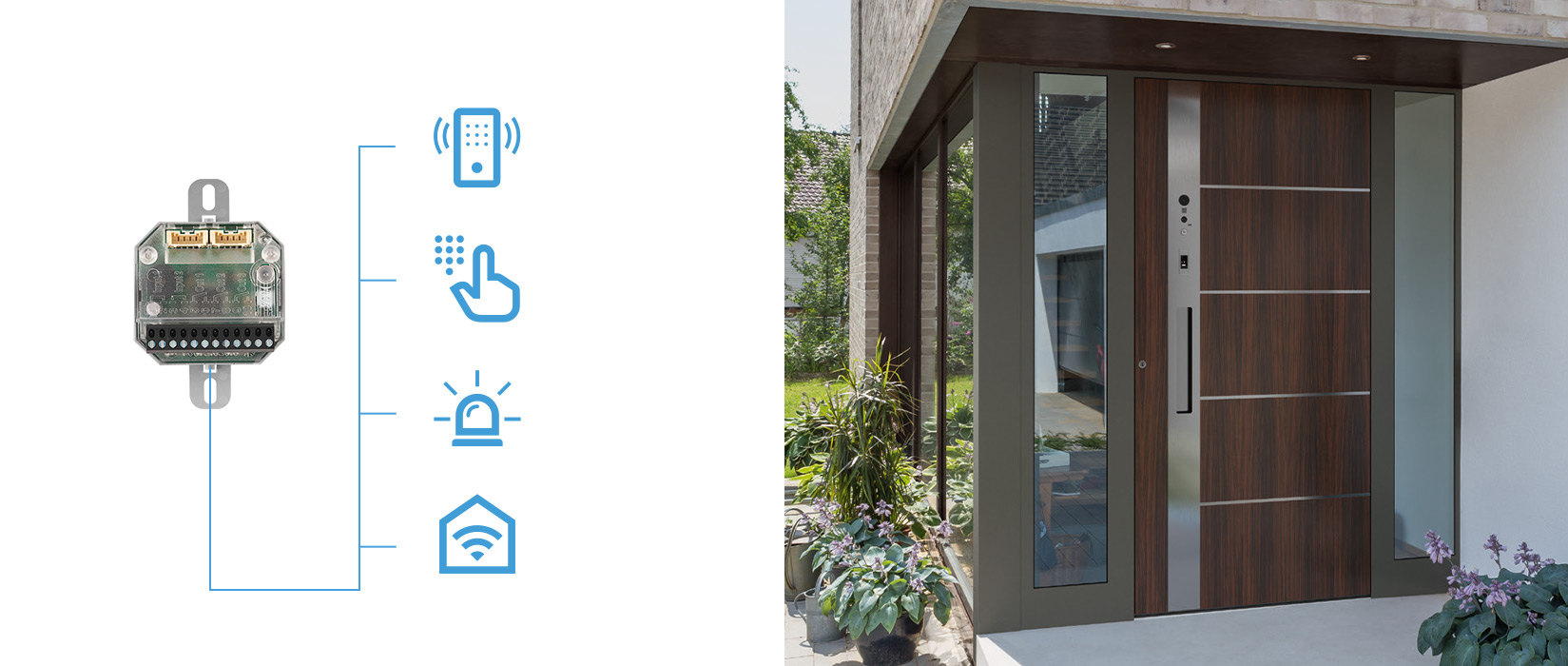 External signal transmitters such as an intercom system or clock timer can be integrated with GENIUS in conjunction with the IO modules. Existing access control systems can likewise be connected via IO modules. These function as an interface to flexibly connect the devices and applications from other manufacturers with the room comfort solutions from SIEGENIA.
GENIUS 2.1 Programming the travel range
Workbench film
GENIUS 2.1 Hall effect sensor adjustment
Workbench film
Conversion from GENIUS 2.0 to GENIUS 2.1
Workbench film
AS 2600 GENIUS + IO-Module
Product film