Handle-operated multi-point locks
Locking and release of the door via the lever handle.

More diversity, less expense: You are at the controls with KFV.
Handle-operated KFV multi-point locks require a door handle on the inside and outside. If it is pulled up, the locking elements in the auxiliary boxes are locked and the released lever forces draw the door into the seal. The lever handle then springs back to its starting position and can be unlocked without a key simply by pushing the handle down again. If the door is to remain securely locked, the lever function can be blocked on both sides by turning the key once and simultaneously locking the main lock. Deblocking is also carried out by turning the key.
Customised efficiency: Uniform routing templates, lean warehousing.

Our multi-point locks with uniform dimensions are intelligent modular systems that make your work from fabrication to installation considerably easier. Uniform routing templates for different types of lock and freely combinable product families make prefabrication more efficient, make the service faster and reduce warehousing.
Comprehensive product range in a freely combinable modular system: great range of versions and reduced warehousing
Clever uniform dimensions for identical routing templates
Consistently high-quality materials and precise fabrication
High thermal insulation and optimal sealing
Diverse backsets and PZ dimensions available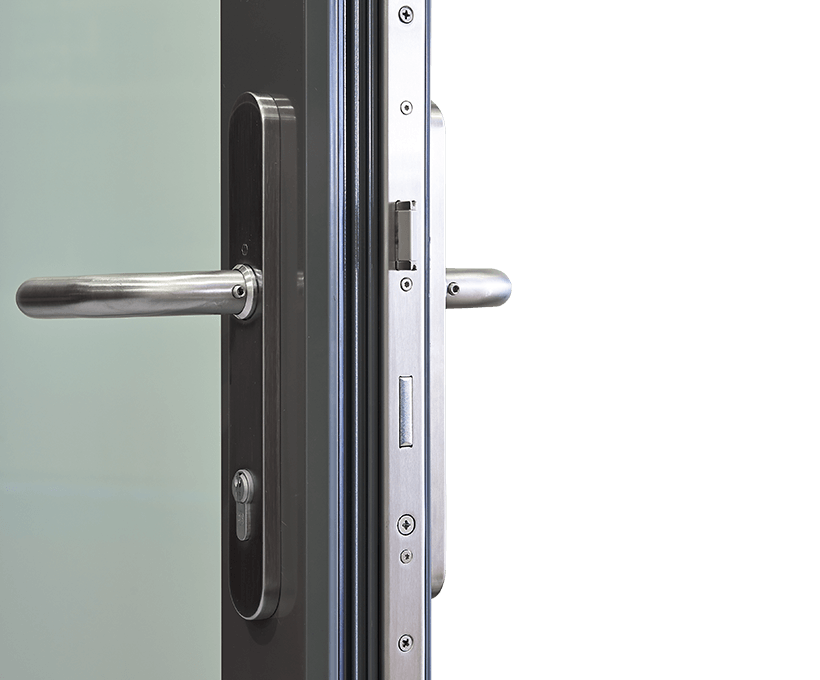 Quick and easy production and installation due to identical routing templates for all auxiliary lock cases
Efficient pre-handling is possible
DIN direction can be adjusted on site
Same frame parts for all multi-point locks with secondary lock
Reduction of error rate due to simplified sequences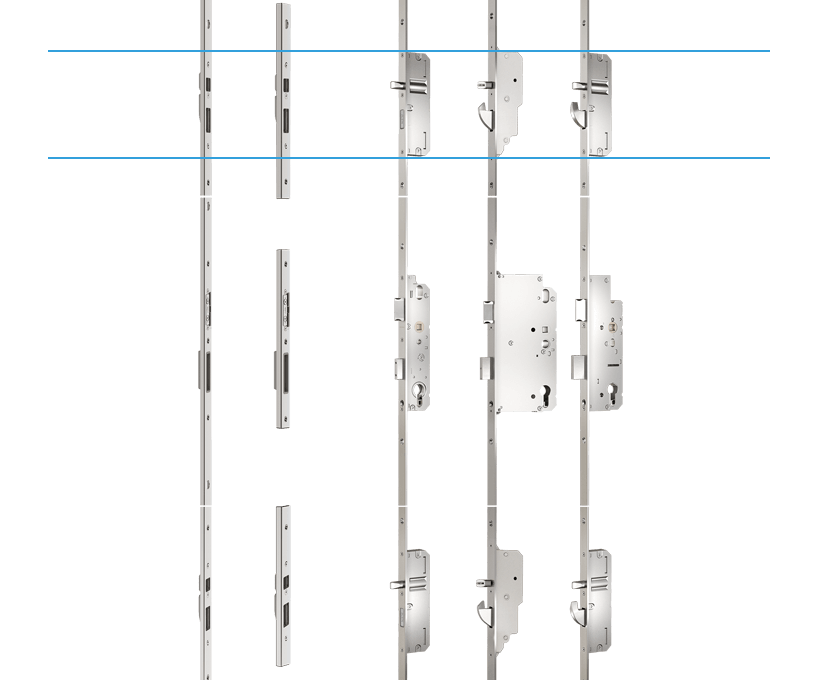 Backsets: 25 to 65 mm
PZ dimensions: 72, 85, 88 and 92 mm for profile cylinder (PZ)
74 and 94 mm for Swiss round cylinder (RZ) Faceplate versions from 16 mm flat faceplate to 10 x 30 x 10 mm U-profile faceplate
Faceplate finishes:
Galvanised
Silver coating RAL 9007
White coating RAL 9016
Black coating RAL 9005
Brushed matt stainless steel
Extension pieces for door heights up to 3 m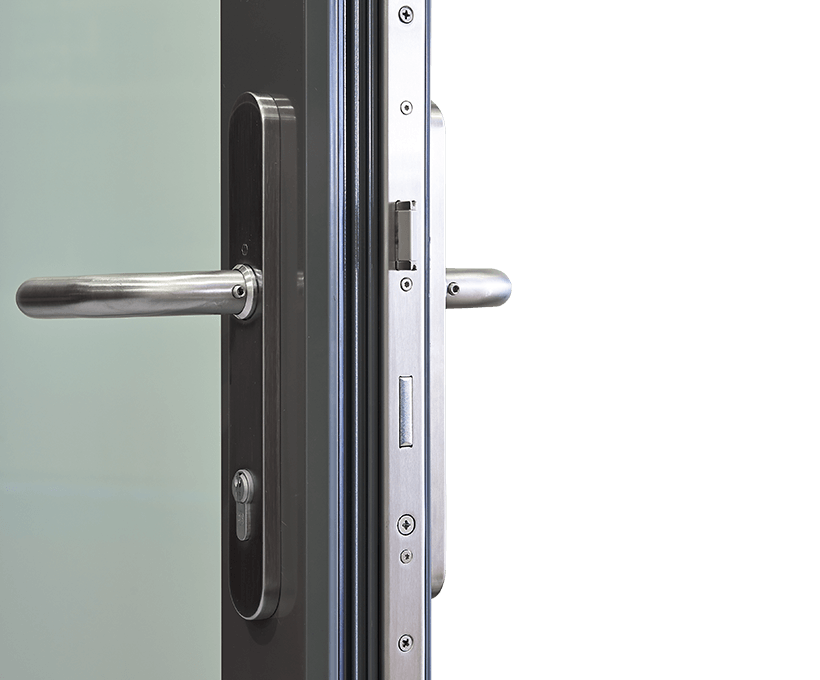 The matching multi-point lock for
every range.
Round bolts and hook bolts
Serie AS 4640
This combination provides maximum security: The steel round bolts make it difficult to prise open the door, the hook bolts make it difficult to prise the door leaf and frame apart. This is simultaneously the ideal solution for high thermal insulation and perfect sealing.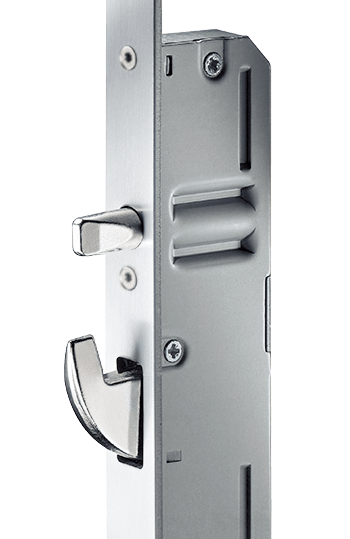 Serie AS 4540
Conical hook bolts prevent the door leaf and frame from being prised apart and provide high thermal insulation and optimal sealing. As they lock upwards, they also prevent a functional failure in the case of a subsiding door leaf.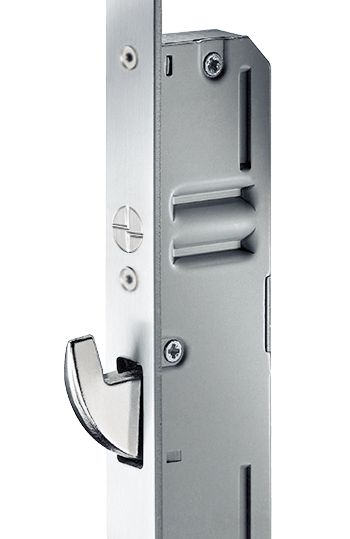 Serie AS 4340
The steel round bolts make it difficult to prise open the door and therefore impede burglary attempts. Their chamfer provides a high standard of thermal insulation and optimum sealing.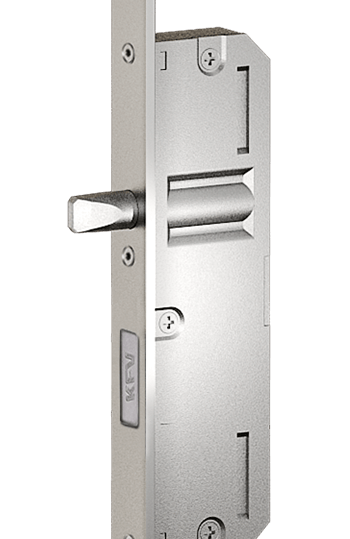 Serie AS 4100
with four self-adjusting and height-adjustable comfort mushroom cams. This multi-point lock is especially smooth-running and low-maintenance. Their rolling comfort mushroom cams hook behind the frame parts. They thus increase the intruder resistance and provide a high standard of thermal insulation and optimum sealing.