A-opener
Drive unit for the electromechanical release of automatic multi-point locks.

The retrofit solution to make secure doors more convenient.
With the easily retrofittable A-opener motor, the AS 3500 and AS 3600 automatic multi-point locks can be upgraded to electromechanical multi-point locks. The A-opener makes it possible to combine doors with different control and access control systems, like the KFV Fingerprint Scanner or KFVkeyless, in order to release the locking elements in the auxiliary lock case electromechanically and open the door.
Greater ease of use: automatically mechanically locking multi-point locks AS 3500 / AS 3600 can also have automatic electromechanical opening
Electromechanical opening in order to release the locking elements in the auxiliary lock case and open the door.
Manual locking and release via cylinder at any time – even during power failure
Can easily be combined with various access control systems like the KFV Fingerprint Scanner or KFVkeyless for operation via Bluetooth or keypad
Permanent standby state without cool-down phases
Optionally retrofittable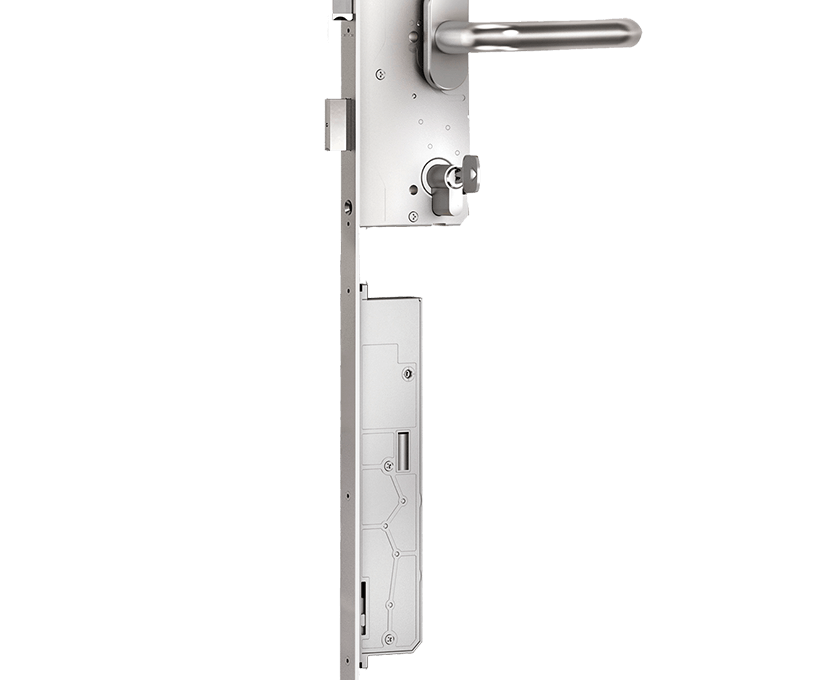 Compatible with cable transfers and accessories from the GENIUS programme
The same compact dimensions as with the GENIUS Motor: low installation width of only 16 mm and a minimum installation depth of 52 mm
Plug-and-Play solution:
Simple ordering: only one material number per set
No missing components for the assembly
Error minimisation due to prefabricated cable with safe plug coding
Commissioning without qualified electrician
Future-proof due to possibilities for extension
Versions with frame-integrated power supply or for top hat rail mounting / KFV Fingerprint Scanner or KFVkeyless
Sets for timber, metal and PVC doors
Clever Plug-and-Play Sets: Simply more efficiency.
Thanks to predefined Plug-and-Play sets, you can obtain all necessary components for the automatic multi-point locking system with A-opener with one single order number – for entrance doors of all frame materials and with a wide range of prefabricated components. This ensures quick and errorless sequences from order to commissioning.

Only one order number for one complete set: including access control system, power supply and all necessary cables
All components are in preassembled, modular kits
Snap-in plug connections, protected against polarity reversal: No electrician required
Installation AS 3600 with a-opener
Workbench film
Replacement a-opener for AS 3600
Workbench film