DRIVE axxent DK
Fully concealed tilt locking drive for tilt-only and turn-and-tilt windows.

Moving design and great ease of use: Motorised unlocking, tilting, closing and locking.
Whether for windows that are not easily accessible or as a special comfort solution: the DRIVE axxent DK tilt locking drive brings effortless and assembly-friendly motion into tilt-only and turn-and-tilt windows. Fully integrated in the frame profile, it combines the "tilt" and "lock and unlock" functions in one system – for fully automated window ventilation. This model provides fresh air to high-class residential and commercial properties, and increases both the quality of living and the property value. Control is possible via push button, wireless remote control, SIEGENIA Comfort app or integrated in the building automation. If the window is pushed shut from the tilt or turn position, the drive locks the element automatically via the new Auto-Lock function. The handle is no longer needed. For window cleaning, the window can be opened manually as the drive releases it at the push of a button.
For a clear window design and maximum ease of use: fully concealed technology, except for the discreet cover panel
Universally suitable for windows made from timber, PVC or aluminium
Motorised tilting and closing via push button or wireless
In combination with an optional WLAN module: operation via the SIEGENIA Comfort app is possible
Optimally suitable for integration in the building control technology
Opening widths of 120 and 150 mm possible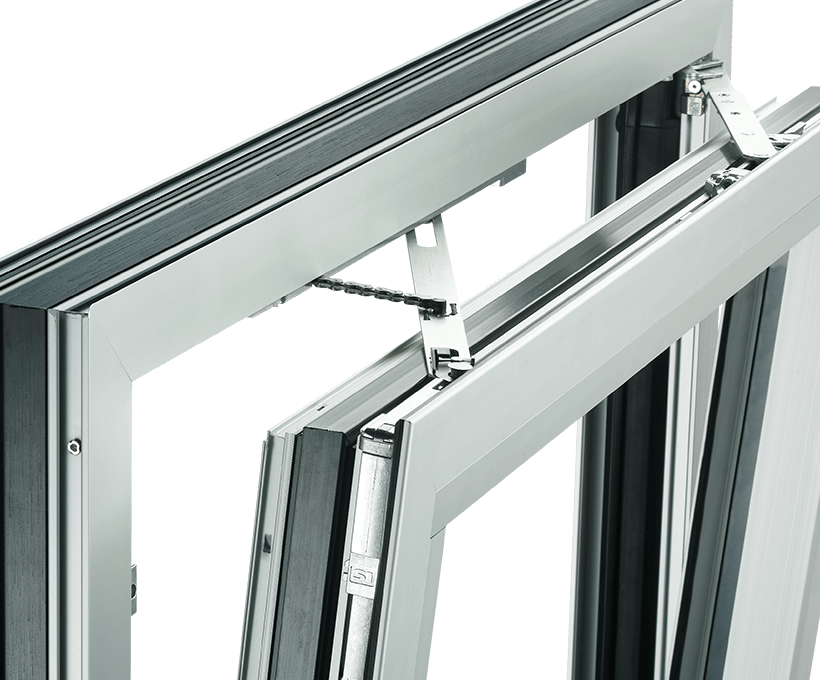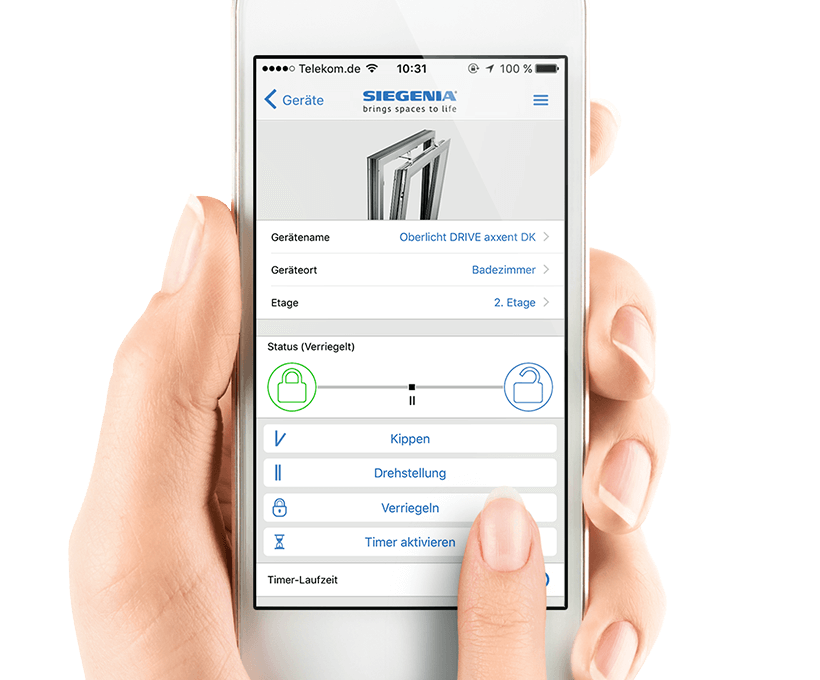 Easy to install and can be adjusted even after installation
No installation costs for the cable transfer or for an additional locking drive
Can be used for turn-and-tilt windows made of PVC (airgap of 12 +1 mm), timber (airgap of 12 +1 mm, with rebate widths from 30 mm) as well as aluminium with Eurogroove (chamber dimension from 21 +1 mm)
An unlimited number of drives can be connected to each other simultaneously
Test unit for simple commissioning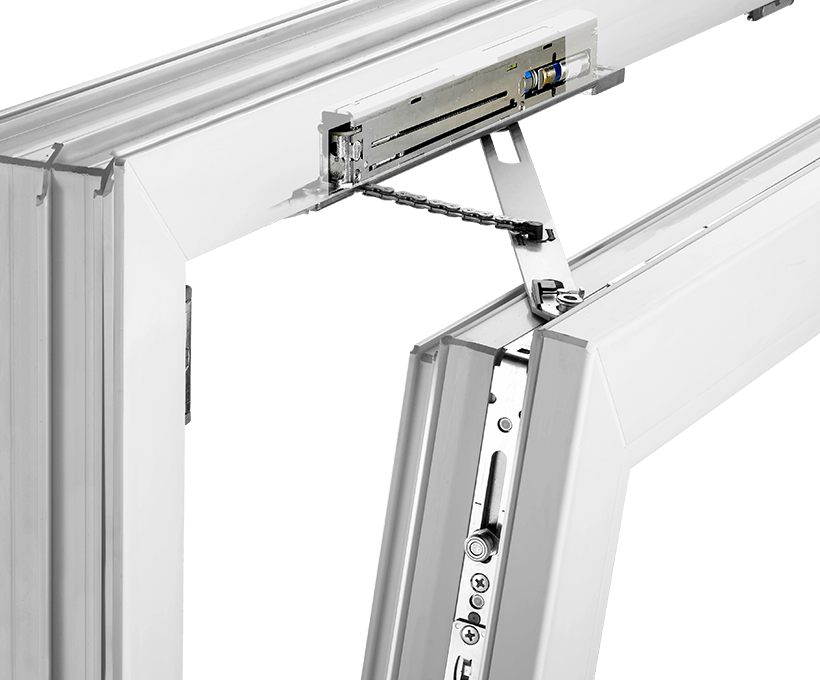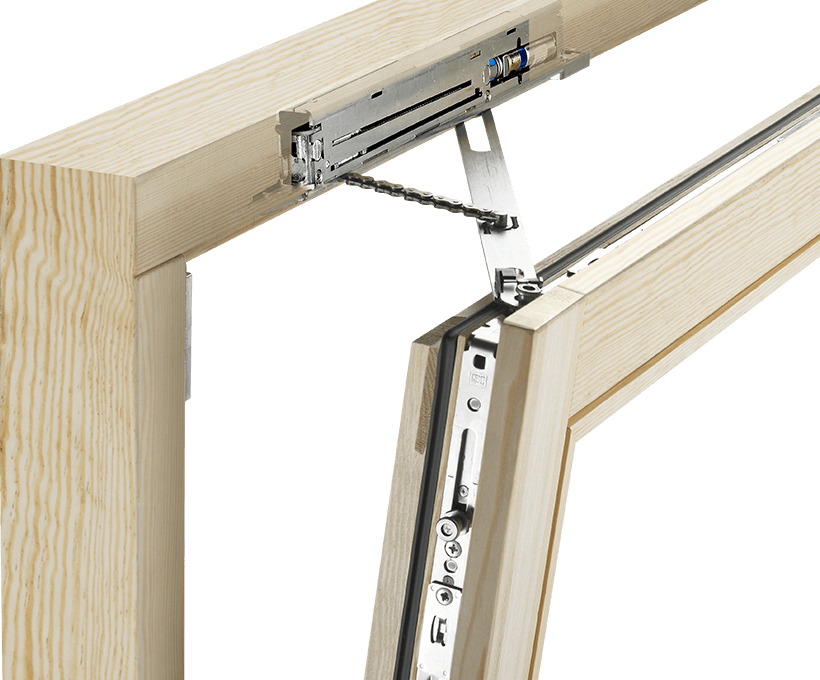 Window material: timber, PVC or aluminium
Installation location: in window, on top, horizontal
Sash weight: max. 130 kg (observe corresponding application diagrams)
Supply voltage: 24 V, 0.6 A
Electronic overload protection
Power cable supplied: 2 pieces 2 x 0.8 mm, length 2.5 m
Duration of opening motion: approx. 25 seconds
Closing speed: max. 5 mm per second
Protection class: IP 20 for dry locations
Tested with: 30,000 operating cycles (double stroke including locking part)
Even greater ease of use via an app: DRIVE axxent DK smart.
In combination with an optional WLAN module, the window drive can easily be operated with a smartphone or tablet via the SIEGENIA Comfort app.
Convenient control via smartphone or tablet with the SIEGENIA Comfort app
Compatible with iOS 8.0, iPhone, iPad and iPod touch as well as Android 5.0
Optimal control thanks to feedback about the device status and the command execution
 Especially smooth-running in whisper mode
Direct operation via the WLAN module (stand-alone mode) or integration in the home network
No need for additional remote control
Intuitive component start-up thanks to an installation wizard integrated in the app
Secure SSL encryption
Function DRIVE axxent DK
Workbench film