SIEGENIA distinguished as a family-friendly company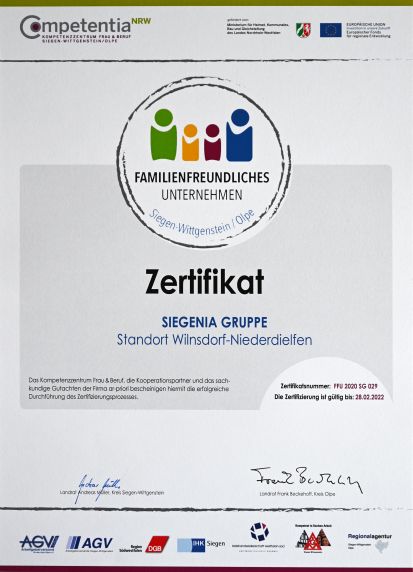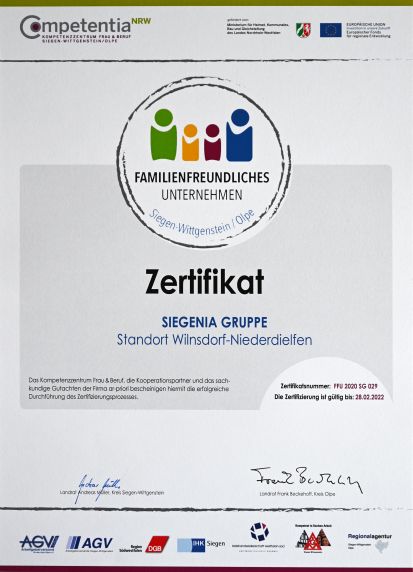 Wilnsdorf company obtains certification
SIEGENIA places great importance on the compatibility of family and profession. From flexible working hours and part-time training extending to child care of children of employees in the company's own KITA (day care centre), the company provides its employees with a wide range of options. The company has now been distinguished for its family-friendliness by the Competence Centre Frau & Beruf (Women and Work) Siegen-Wittgenstein/Olpe.
Wieland Frank, Managing Partner of SIEGENIA, delighted about the recognition of the commitment of SIEGENIA, stated: "Family business is not just a soundbite for us. We support our employees as well as possible in the harmonisation of family life and working life. This will also be the case in the future – with measures that provide our employees with essential assistance. "Against the background of COVID-19, the flexible work time models and the offer of mobile work, which has been very well received, have also effectively contributed to the protection against potential infections. This also applies to the implemented adaptations of the shift models in production, the staggering of breaks and working hours as well as to the heightened hygiene measures.
Extensive certification process
The distinction was preceded by an approximately two-month certification process. It includes inter alia an emotional application from SIEGENIA, in which diverse employees describe their unique personal experiences with the family-friendly measures of the company, impulse events for the debate of the status quo as well as on-site visits from the jury, consisting of representatives of the Employers' Organisation of the districts of Olpe and Siegen-Wittgenstein, the IHK (Chamber of Industry and Commerce) Siegen and the German Trade Union Confederation (DGB) among others. In a presentation round, the participating companies received the opportunity to highlight the benefits of their spectrum of action for a family-friendly corporate culture conclusively.
You can view the application video from SIEGENIA here: https://youtu.be/5idKGqw9q9A