SIEGENIA produces its 100,000th COMFORT UNIT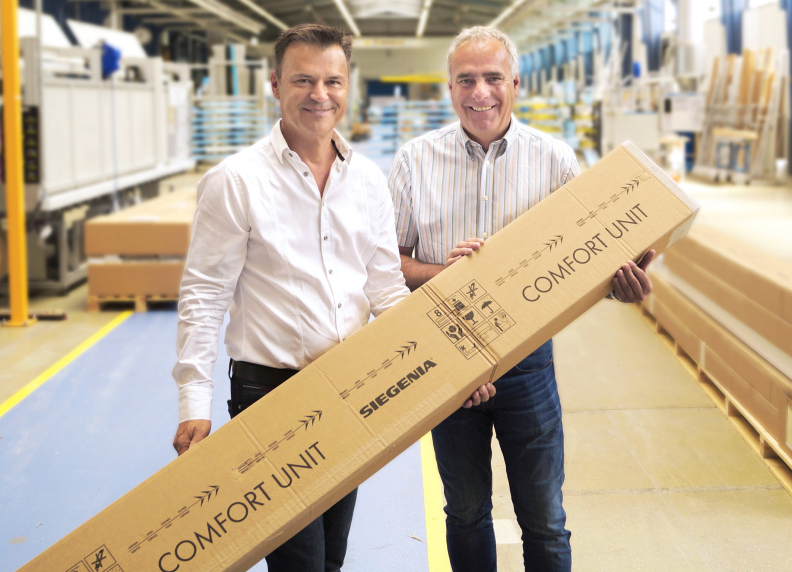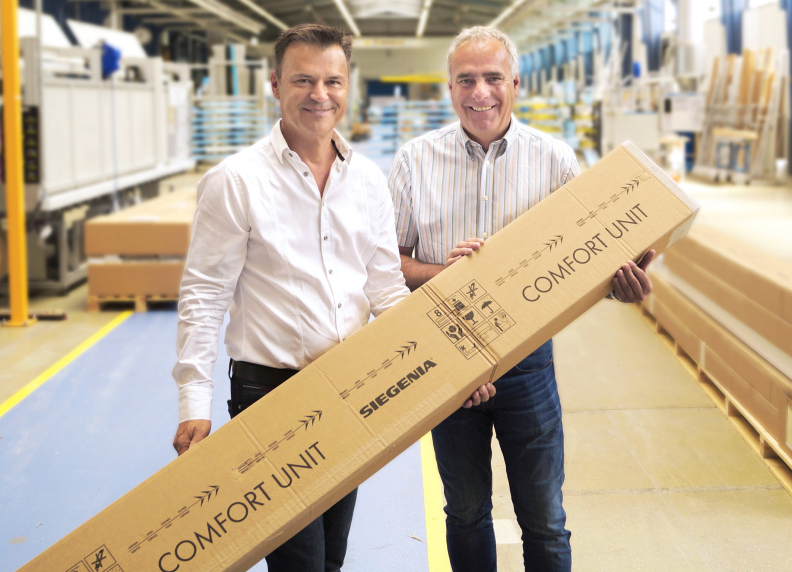 Strong demand – consistent development
Six years ago, SIEGENIA became the first manufacturer the world to facilitate the purchase of thresholds for lift and slide elements in the form of customised complete solutions – on 4th July, the 100,000th COMFORT UNIT left production from the Hermeskeil site. The recipient of the "record unit" is PORTA Bauelemente & mehr GmbH & Co. KG from Porta Westfalica. The all-in-one trouble-free package from SIEGENIA, which is now being produced at more than 2,500 units a month, is continuing its successful development.
A new dimension of partnership
With the launch of the COMFORT UNIT, SIEGENIA in 2013 made the leap from a pure hardware manufacturer to a full service provider for complex assemblies, reaching a new dimension of partnership. The COMFORT UNIT allows window manufacturers to obtain all components required for the execution of an order for timber, timber-aluminium and PVC lift and slide elements, in the form of high-performance complete packages. All components are preassembled to order - cut-to-size with millimetre-precision and with individual pre-drilling. The ECO PASS threshold is delivered preassembled, meaning that it must only be attached to the frame profiles in production.
For window manufacturers, this means an optimisation of the production processes, saving time and costs. The search for and assembly of components is omitted, sources of faults in processing are excluded and the costly wastage during cutting is prevented. SIEGENIA also guarantees that any supplied element is weathertight. Moreover, fabricators can dispense with their own warehousing and eliminate inventory risks.
Consistent development
As a result of the high level of market acceptance of the COMFORT UNIT, the all-in-one trouble-free package from SIEGENIA has been consistently enhanced since it was launched on the market. State-of-the-art digitally networked production capacities with two processing centres and six assembly tables for thresholds of up to 10 m in length ensure short delivery times and maximum quality standards. Since 2015 the company has supplemented its standard delivery time of 5-8 working days in Germany with the offer of 48-hour express deliveries. Maximum flexibility is provided not least by the consistent development of the systems, which currently comprise nine PVC lift-slide systems, a range of timber-aluminium systems, three timber systems with different overall depths and design variants as well as solutions for different opening schemes. The launch of further solutions is scheduled for 2019.
Furthermore, since the beginning of the year, the company has been offering its partners tangible added value with its new online shop. The required components can be selected quickly and reliably at the click of a mouse. This is currently as unique as the integrated live validation. This ensures the correct configuration and guarantees that all components are precisely and mutually coordinated.