PORTAL ECO SLIDE
For sliding doors or windows with sash weights of up to 250 kg.

More options and cost-effectiveness.
The operation is intuitive and effortless, the seal is continuous and efficient: Sliding saves energy with PORTAL ECO SLIDE! The explicitly cost-effective and, if required, barrier-free hardware solution brings the ease of use of lift-slide systems and the compression of parallel slide & tilt down to one single common denominator, even for sliding windows. This is provided by the assembly-friendly, perfect combination of a unique seal, special bogie wheels and innovative guiding and locking elements at all four sash corners.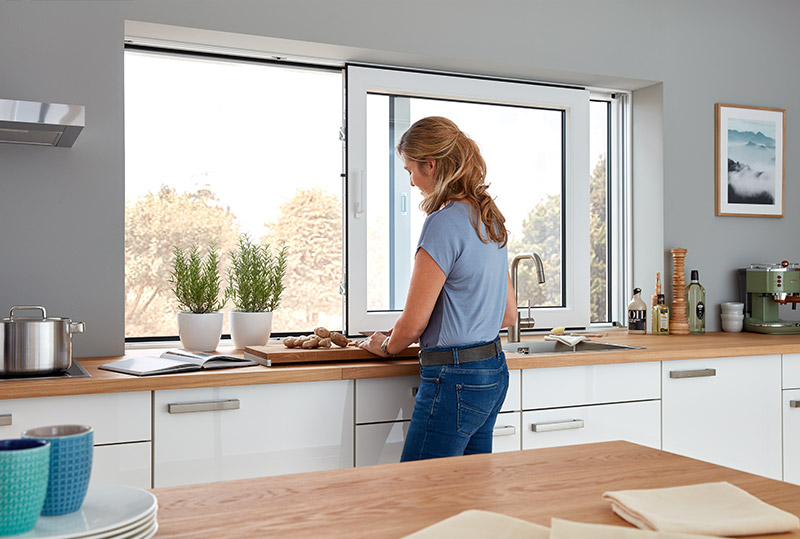 Generous opportunities for perfect utilisation of the room.
ECO SLIDE provides enhanced freedom of design; especially when used in window systems where the hardware is superior to turn and tilt systems in many cases. Because there is more scope for contemporary concepts of design and individual room comfort when the sash runs in the track, instead of pivoting inwards, and yet is still tight and secure. But even in sliding doors, ECO SLIDE will push you right to the front. Because it offers solutions for PVC in dimensions ranging up to 4.40 m wide by 2.20 m high and up to 5 m wide by 2.50 m high for timber.
Force-controlled providing compression and reliability: Innovative guiding and locking elements.
They guide the sash at all four corners precisely and dampened into its closing position or intuitively trigger the night vent. The special ECO SLIDE sealing system consists of up to two continuous, circumferential sealing levels and the necessary sealing forces are force-controlled from the handle via the gear and transferred to the two locking hooks.
High compression due to guiding and locking elements in each corner
Intuitive, force-controlled operation with night vent function
High resistance to misuse: Also ideal for changing user groups
Wear-resistant locking bolts and hooks mounted on ball bearings made of high-quality cast brass
PVC stops absorb the impact noise
Integrated height adjustment for optimised adjustment options
The 16 mm eurogroove is identical to that used in turn-and-tilt windows – no modifications required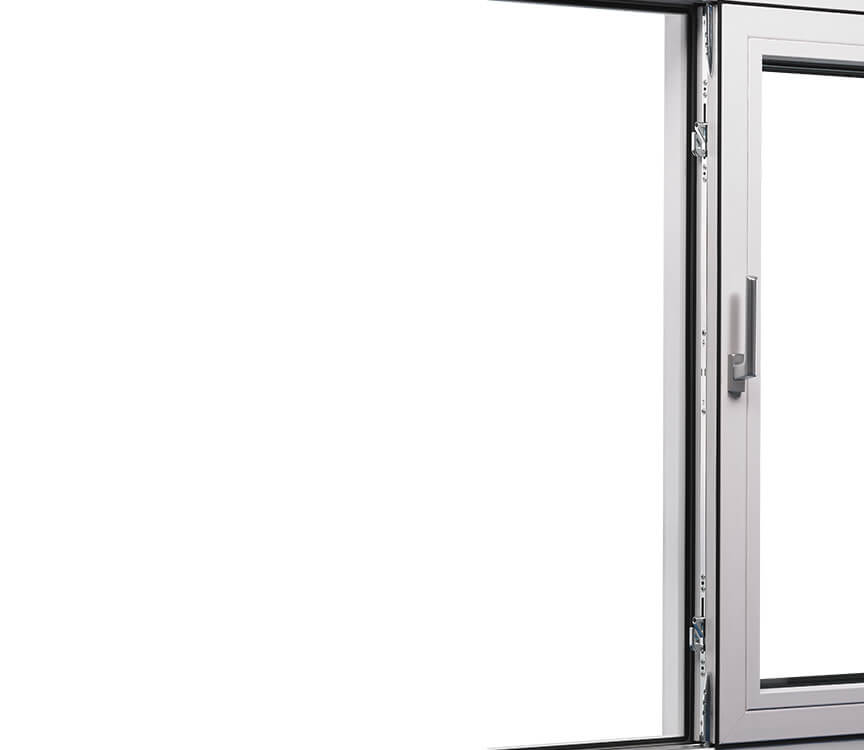 Quality that you grasp immediately.
Noiseless locking and unlocking free of play with lasting high functional reliability
Ergonomic and contemporary design
Free choice of colours: white, cream, brown, medium bronze, silver, titan matt light, F9 or black, can also be painted
Large choice of versions ranging to the design with cylinder
Perfectly coordinated with the hardware and the sash weight
Matching the handles from the turn and tilt range in terms of colour and design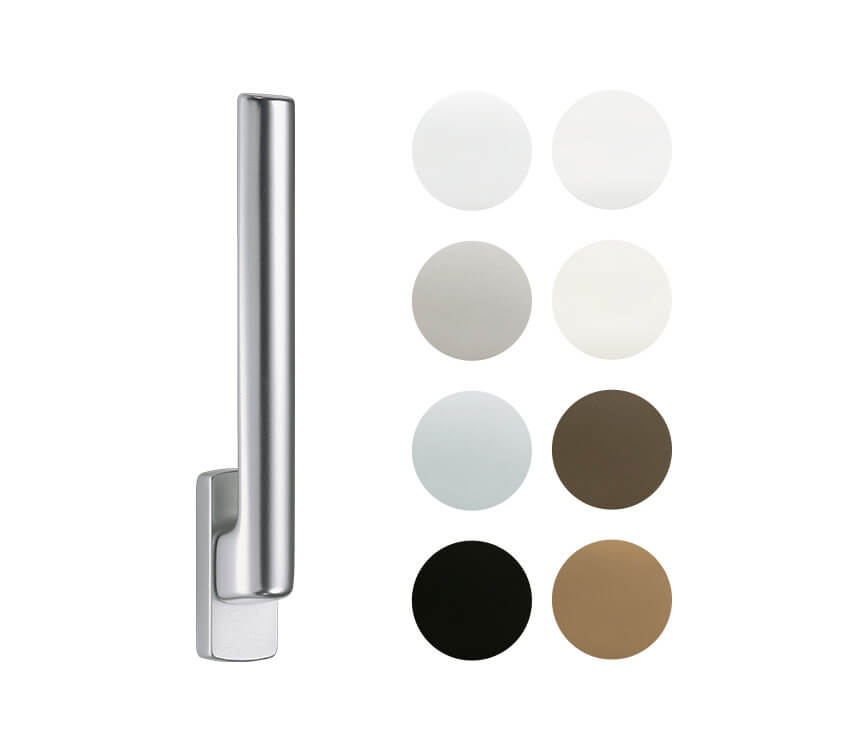 Gently raise the sash and slide it weightlessly.
Two or four ECO SLIDE bogie wheels gently absorb the put-down movement of the sash by a side movement and ensure an optimum gliding movement.
Soundless and smooth-running sliding of sash weights up to 250 kg
Particularly low-maintenance
Smart modular design: Load-bearing capacity up to 150 kg with two bogie wheels; 150 – 250 kg with four bogie wheels
Three screwing variants: in the eurogroove, in the groove base or laterally
The inner casing can be fixed for installation
With grooves for sealing bushes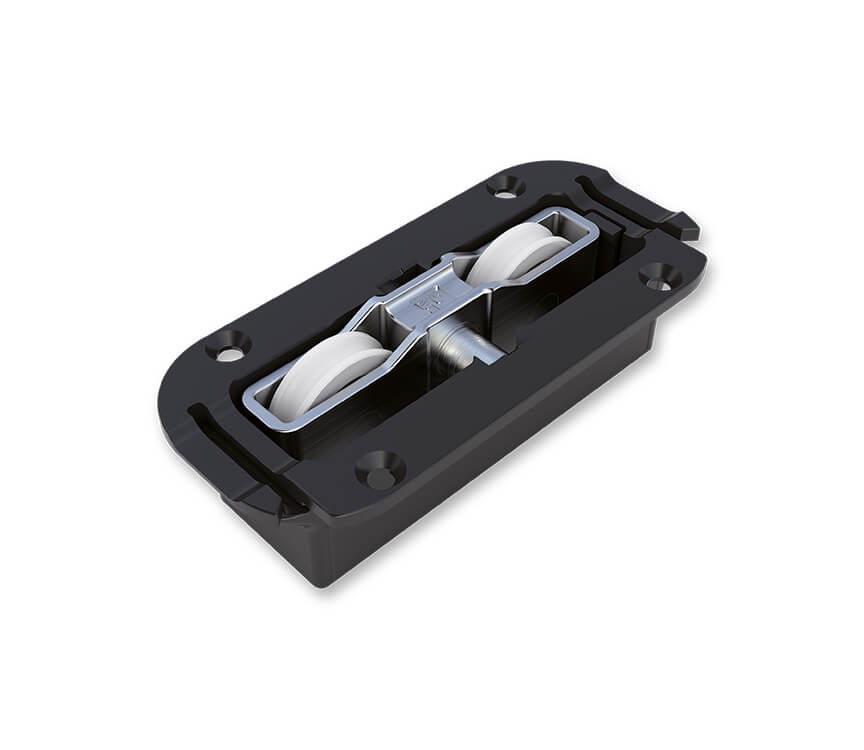 As safe and gentle as a modern kitchen drawer.
There is a safe solution for the simple operation of sliding systems: The innovative SOFT CLOSE damper which can be invisibly integrated into the sash. This brakes the sash gently just before the end position and then pulls it shut automatically. This minimises any risk of injury in the case of improper operation and precludes any material damage.
Prevents damage and injury caused by improper operation
Simple and intuitive operation: Faulty switching is excluded
Completely new sliding feeling through maximum smooth operation
Easy to adjust
Maintenance-free thanks to oil-lubricated gas pressure spring
Perfect design: Fully concealed solution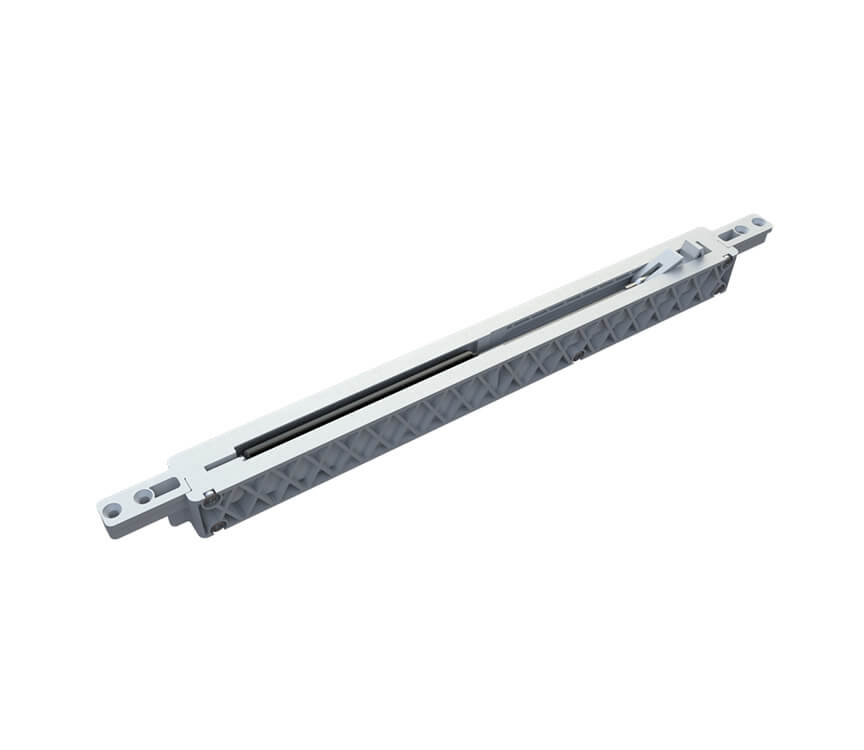 Operating the PORTAL ECO SLIDE hardware
Product film
PORTAL ES 250 ECO SLIDE assembly
Workbench film

SOFT CLOSE works so easily
Product film