PORTAL HS 300 kg
Our PORTAL lift-slide technology for timber, PVC and aluminium is so versatile and sophisticated that it pushes forward with regard to room comfort, with its wide range of innovations – of course it is also barrier-free and comes with numerous options for saving time and reducing costs throughout the entire production process.
Energy efficiency and barrier-free systems as if from a single mould.
The unique ECO PASS threshold for our PORTAL lift and slide elements perfectly combines accessibility and high energy efficiency in a flexible and easy-to-install way. Furthermore, the ECO PASS threshold is available in different versions: in the level axxent variant with 0-mm running rail, with 5 mm running rail and level threshold with 5-mm running rail and inclined step plate. The first-class thermal insulation and special stability of the single-part solution is achieved by the innovative 10-chamber profile. Moreover, all ECO PASS thresholds are marked out by their high compression. High-quality connection solutions guarantee that the sill installation is standard-compliant.

ECO PASS axxent: the barrier-free 0-mm threshold.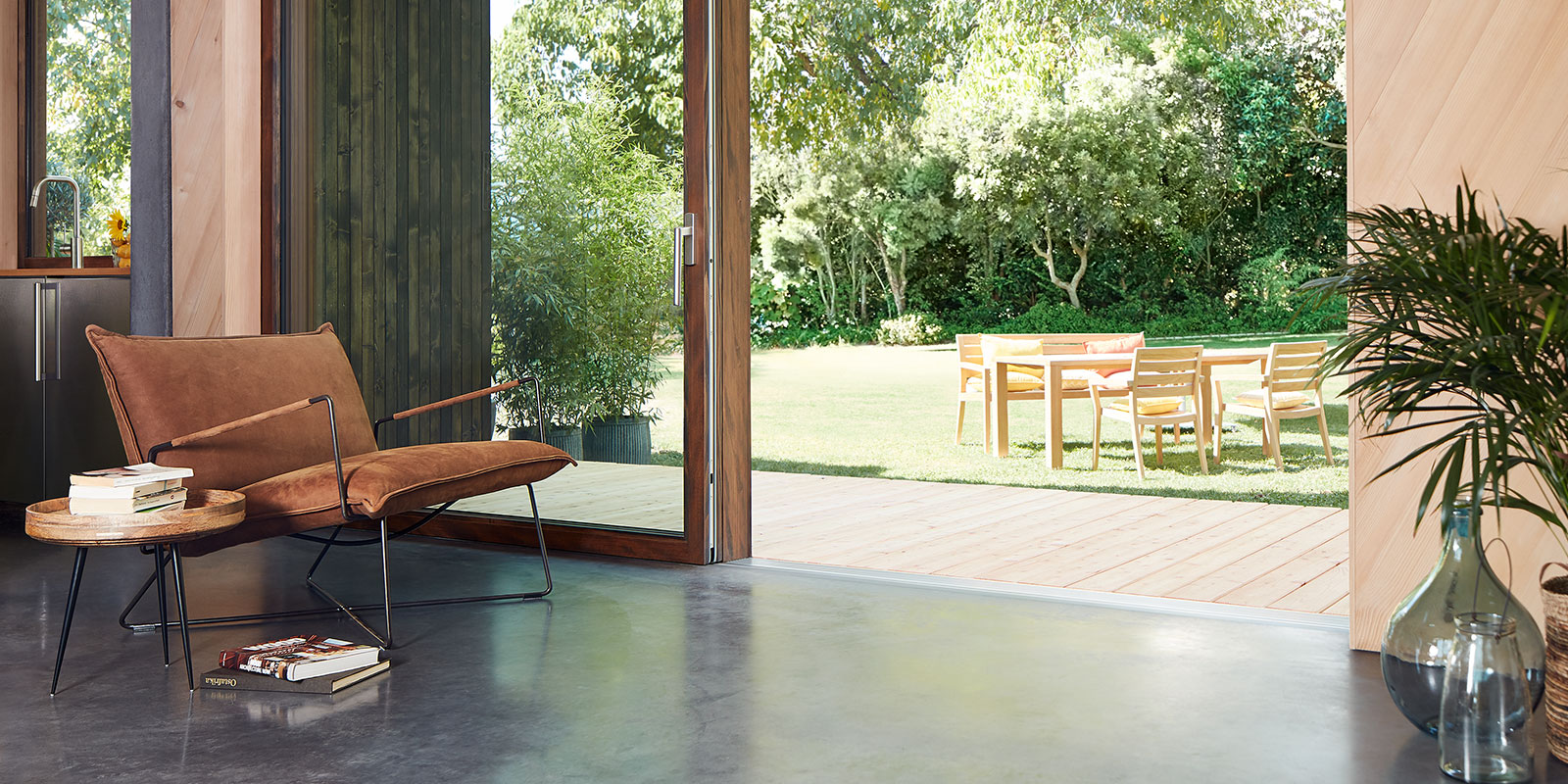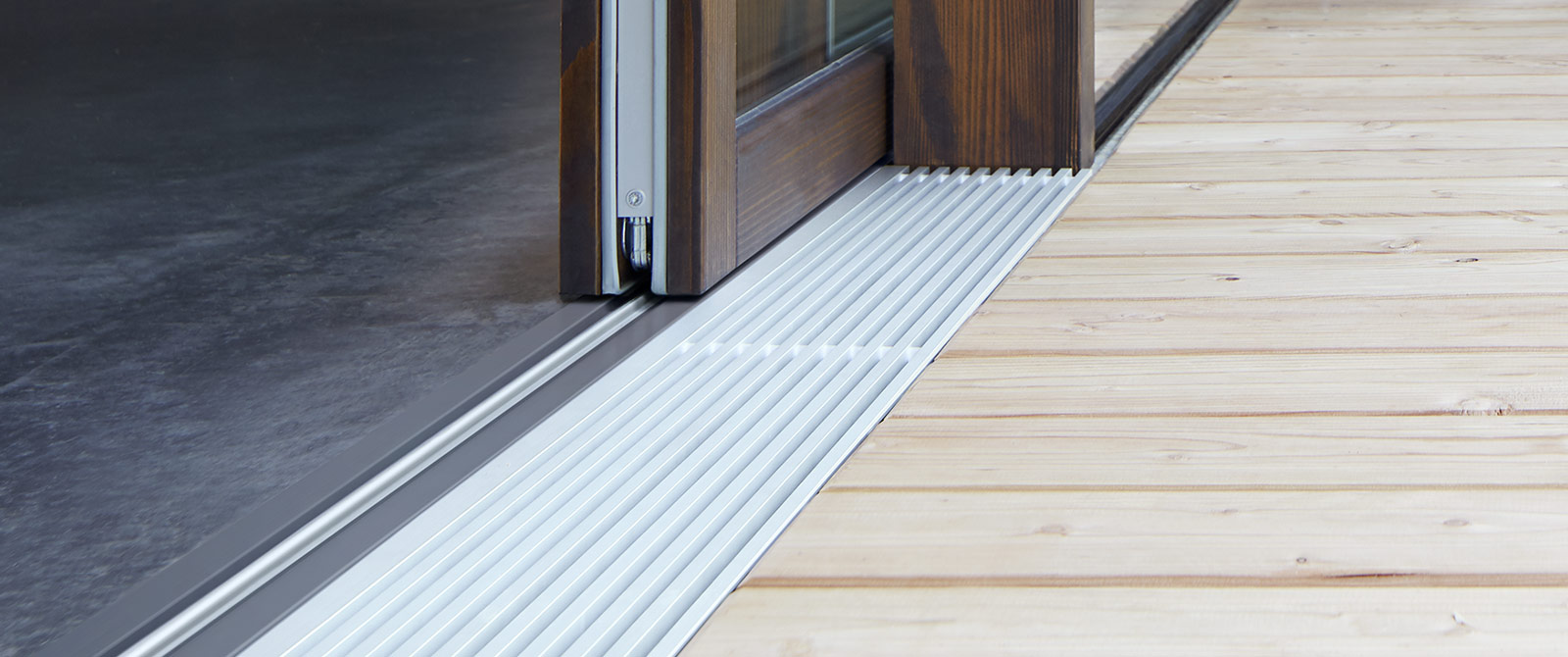 For lift-slide doors made of timber-aluminium
0-mm barrier-free system without inclines in accordance with DIN 18040-2
Optimum thermal insulation due to 10-chamber design
Perfect sill installation and optimum drainage system
Threshold ECO PASS SKY axxent
Product film
ECO PASS barrier-free 5-mm threshold.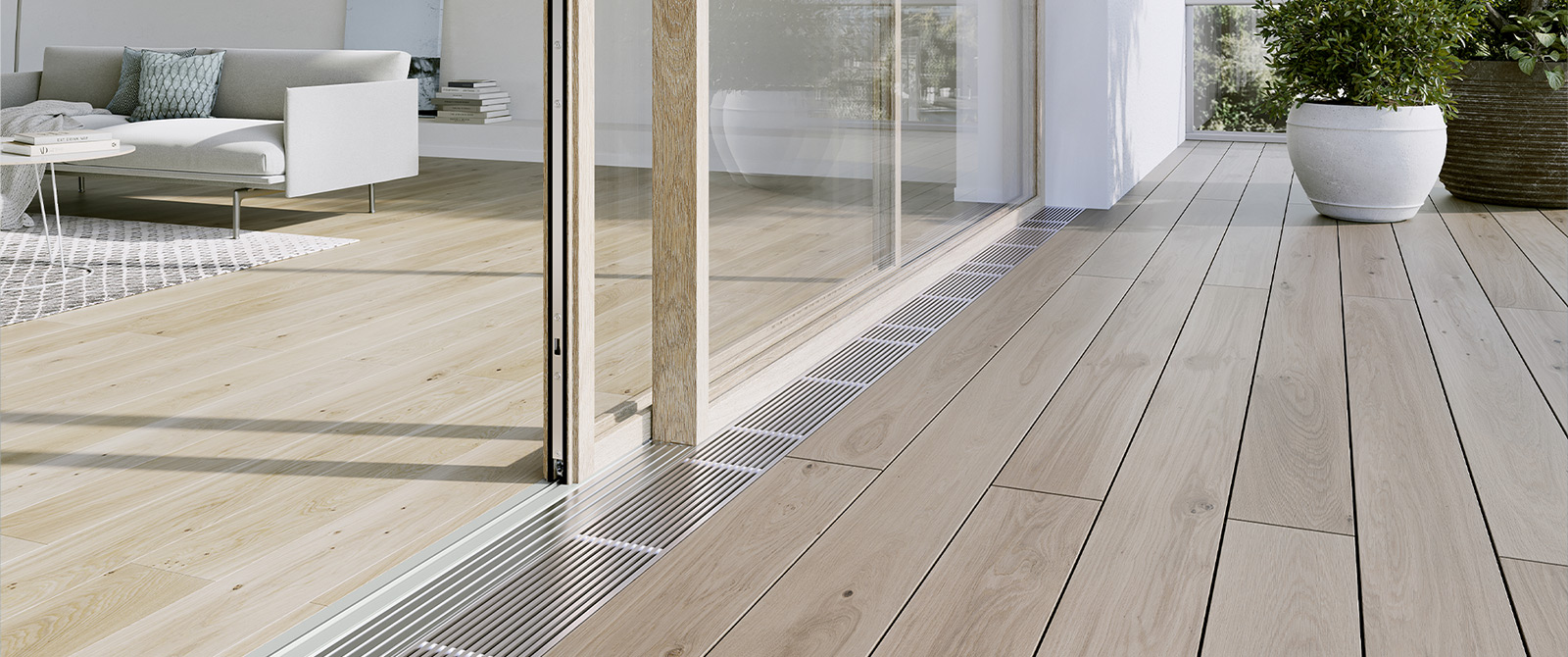 For lift-slide systems made of timber-aluminium, timber and PVC
5-mm running rail and barrier-free threshold without inclines for a barrier-free system in accordance with DIN 18040-2
Optimum thermal insulation due to 10-chamber profile
Excellent watertightness thanks to drainage over two levels
One-piece design
ECO PASS barrier-free 5-mm threshold
Product film
ECO PASS 5-mm running rail.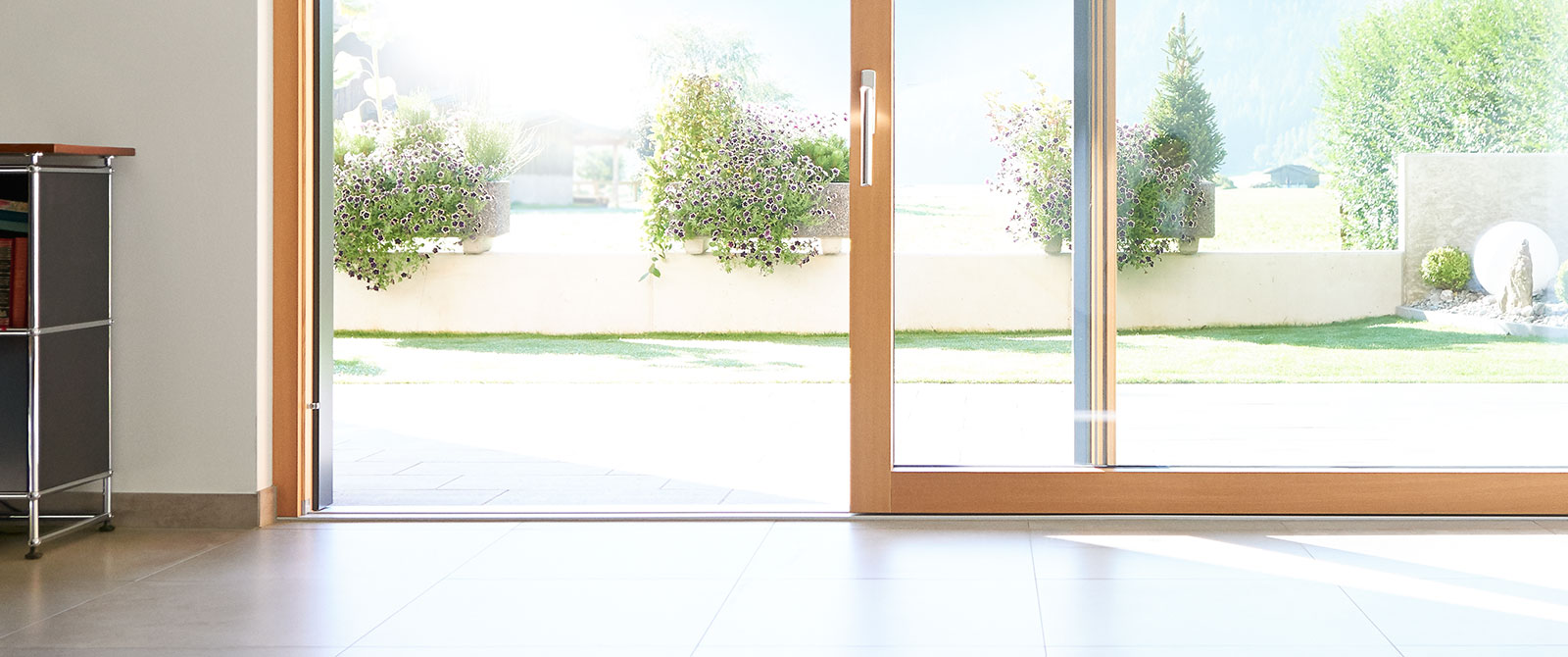 For lift-slide systems made of timber-aluminium, timber and PVC
Practically barrier-free passage thanks to step plates and a 5-mm running rail for a barrier-free system in accordance with DIN 18040-2
10-chamber design allows optimum thermal insulation
Seamless transition of the fixed glazing in the floor: the SKY effect.
In order that you can live in a light and boundless environment, the ECO PASS SKY threshold for timber-aluminium lift-slide systems allows a seamless transition of the fixed glazing elements into the floor. In conjunction with lean sash profiles, you will achieve a sliding door design that eliminates the boundary between inside and outside and will optically enlarge your living space.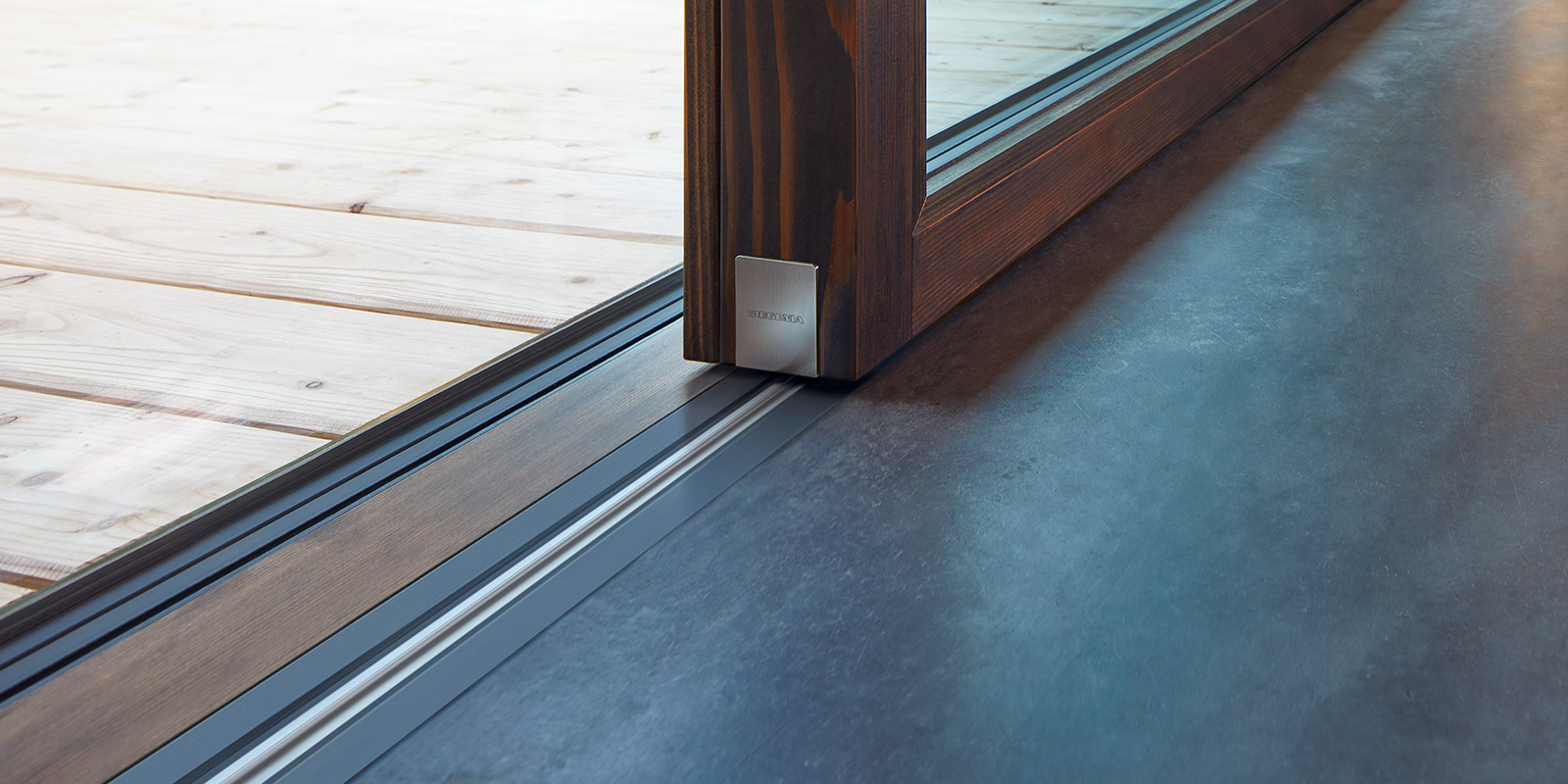 In the ECO PASS SKY axxent variant, the design of the threshold can be flexibly adapted to the floor or frame material. For a drainage gutter in front of the fixed glazing, a grille design that is identical to that in the threshold area is possible.
Certified complete solutions for ECO PASS thresholds.
High-quality connection solutions for our complete ECO PASS threshold range. They are carefully coordinated, can be fabricated flexibly and in a time-saving manner, and are also secure and standard-compliant.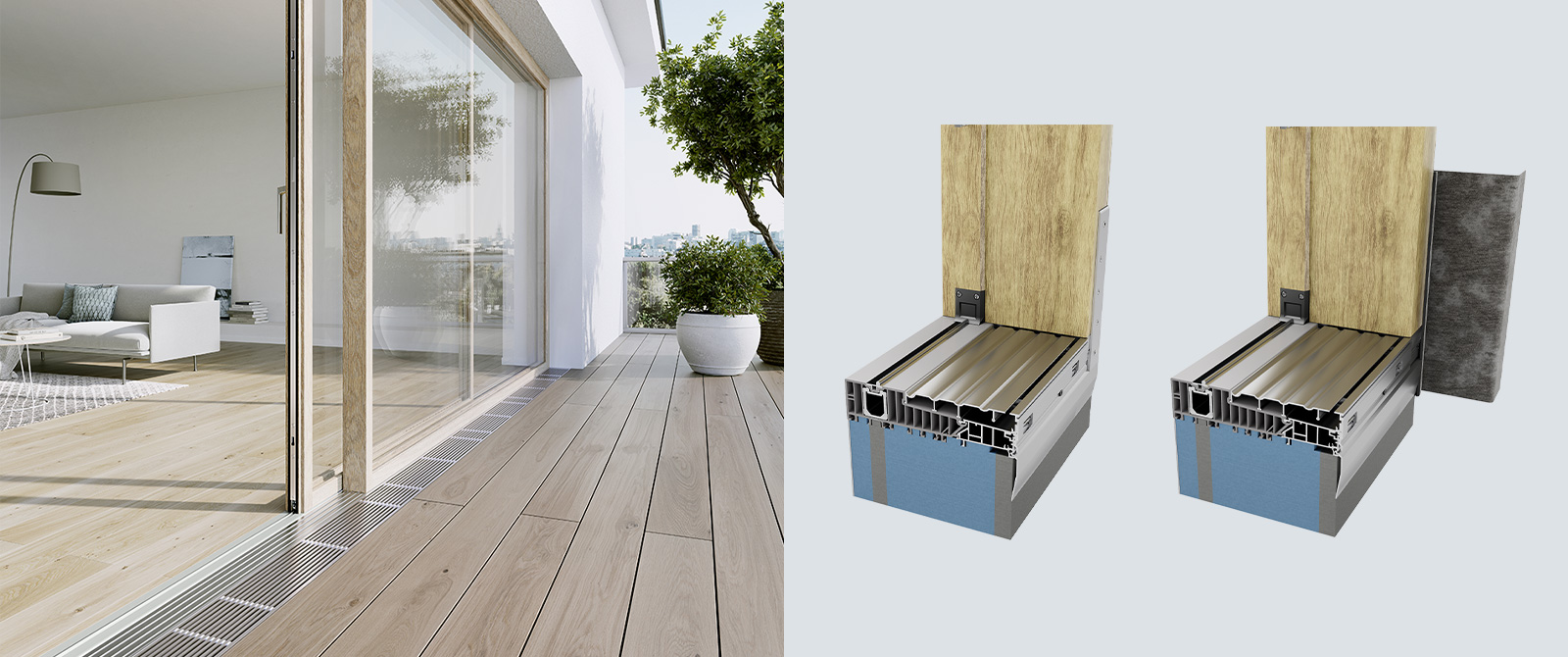 Order your lift-slide system as a zero-hassle package.
For customised fabrication processes, we will deliver your lift & slide complete package based on the ECO PASS threshold as a ready-to-assemble, hassle-free package with our COMFORT UNIT. That way all hardware components are already cut to the nearest millimetre and individually pre-drilled.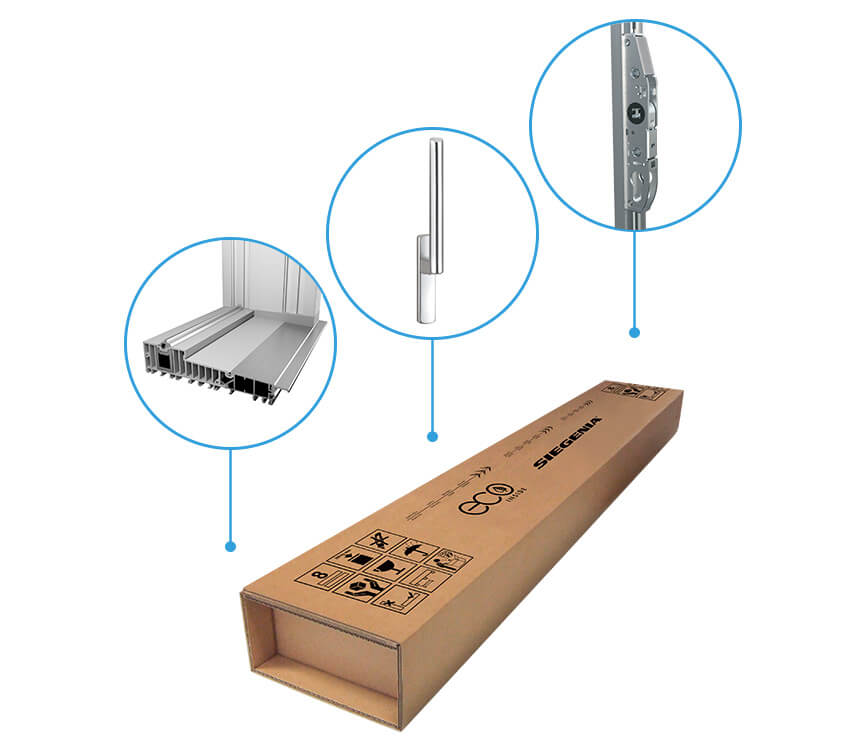 PORTAL can do it: Discover the possibilities.
With PORTAL HS, you have a choice of gear, thus presenting your customers with more possibilities. In this way, manual ease of use can be flexibly adapted to individual requirements and the highest standards can be met. The selection begins with the type of lock: Either classical with two or more sturdy locking bolts, or innovative and flush with up to three hook bolts.
Gear with locking bolts: burglar resistance up to RC3 is possible.
Depending on the element, you can easily achieve burglar resistance up to RC2 with two or four sturdy locking bolts. Moreover, RC3-certified burglar resistance can be achieved with the provision of four locking bolts and three pairs of security interlocks on the DS28/48/28 sealing rail. Only PORTAL HS can offer you this.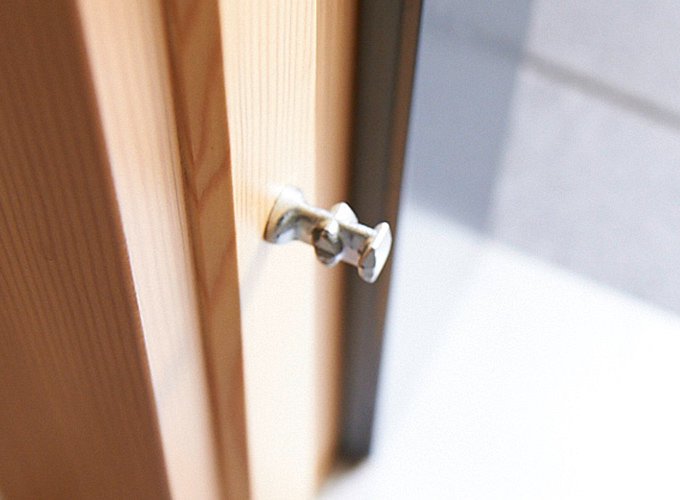 Hook bolt gear: Tight and secure without compromising.
Up to three hook bolts, with integrated blocking function, ensure effective, first-class sealing and high burglar resistance up to RC2. Absolutely flush when open, they slide over closing rollers into the frame part gently and without wear and reduce the gear load. The night vent is standard and the concealed pressure adjustment is +/- 2 mm.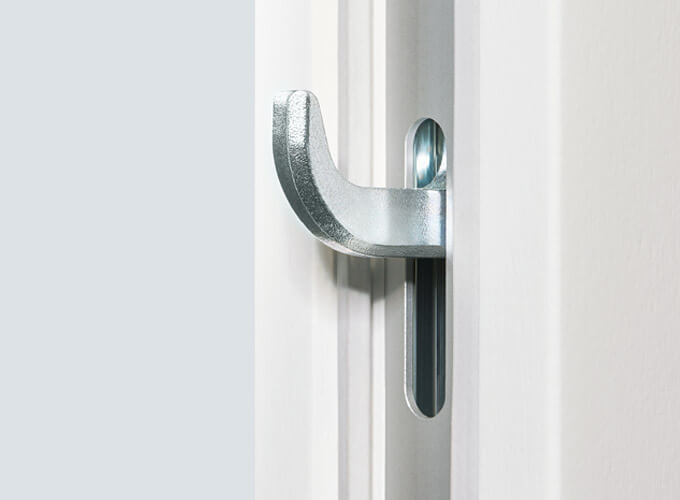 The most sophisticated options for comfort and security.
Even less operating force.
A preassembled, ready-to-install damper unit is available as a comfort gear for these two locking types. A special spring hidden in the comfort gear uses the weight of the sash to reduce the torque and lift the sash even more easily. The handle is prevented from snapping back in an uncontrolled manner when the sash is lowered into the locking position.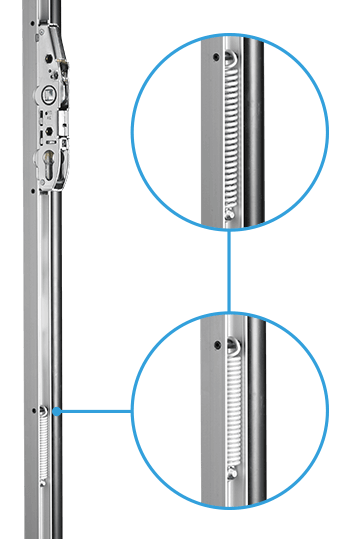 The option for even more security.
Whether you choose the standard or comfort gear, with hook bolt or locking bolt: You can of course also obtain PORTAL HS gears from 200 kg with cylinder locks that meet the highest security requirements.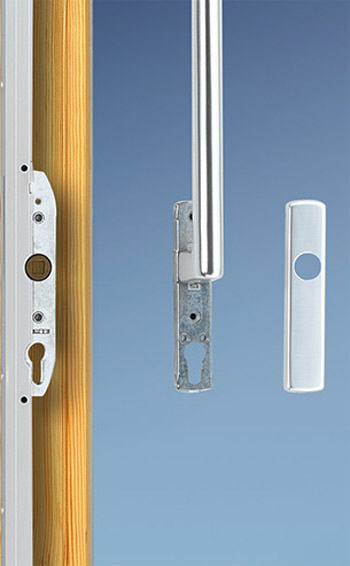 Without play and cracking noises.
The gear damper ensures a backlash-free connection between handle and gear, meaning that no cracking noises are generated or loss of stroke is incurred when operating heavy sashes. The damper is integrated in all PORTAL HS gears with a backset of 37.5 mm as standard.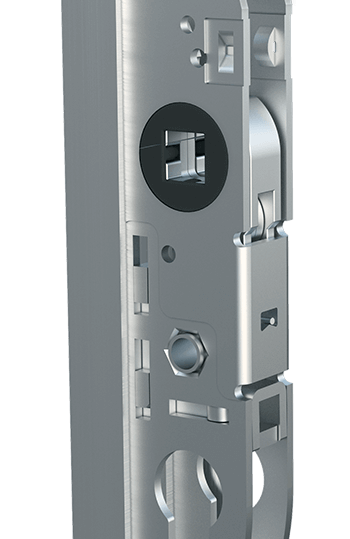 Quality that you grasp immediately.
Noiseless locking and unlocking free of play with lasting high functional security
Ergonomic and contemporary design
Free colour selection: white, cream, brown, middle bronze, silver, titan
matt light, F9 or black, can also be painted
Large choice of versions ranging to the design with cylinder
Perfectly coordinated with the hardware and the sash weight
Matching the handles from the turn and tilt range in terms of colour and design Programm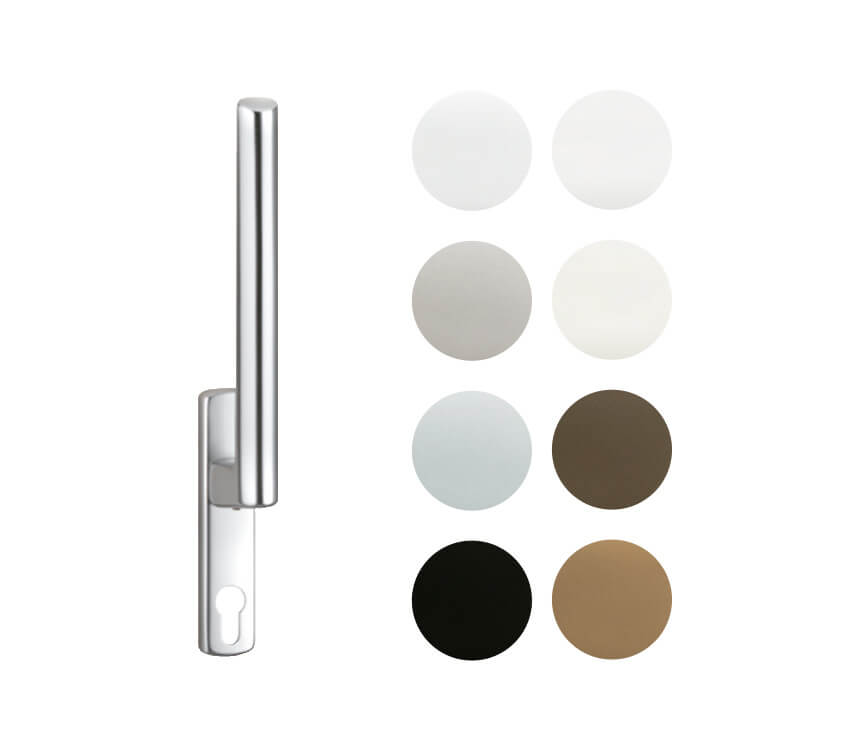 Ease and efficiency are a question of adjustment.
Integrated precision adjustment with readjustment reserves of 3 mm: Quick and easy lifting of the sash at the back
Saving time and costs for you: Flexible and secure adjustment of the sash during assembly and perfect tolerance equalisation
Greater ease of use for your customers: Smooth sliding motion with high compression thanks to optimum adjustment opportunities on site
Suitable for sash weights of up to 300 kg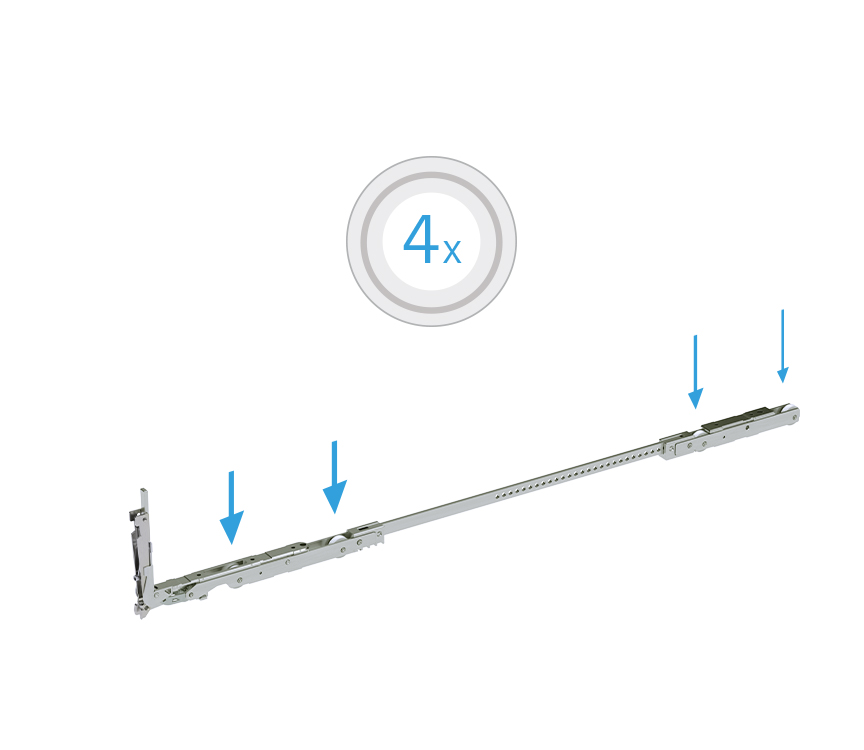 Let neither heat nor burglars through.
With our PORTAL sealing rails for lift-slide systems you can increase the intruder resistance together with the compression and also provide effective protection against condensation, wind and driving rain.
Sealing rail DS28/48/28: more insulation and security with less expenditure
Optimised thermal separation through a multi-chamber sealing rail made of PVC
The best compression in combination with the HS 4.0 sealing system
With additional parts, suitable for burglar resistance RC2 or RC3
Invisible screwing and minimum width for leaner profiles: only 28 mm wide at the top
Fastest fabrication due to pre-drilled screw holes and a corner part between the horizontal and vertical sealing rail
Increased sash tolerance range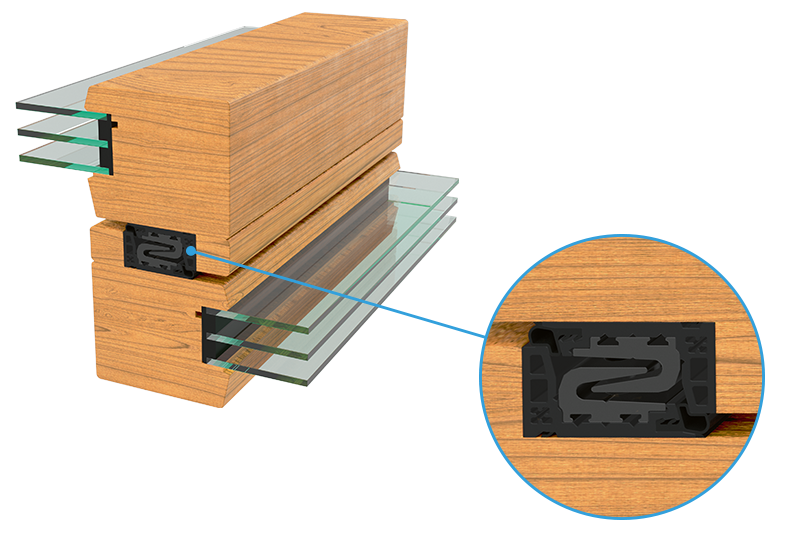 Sealing rail C28/48:
optimal horizontal insulation.
Optimised thermal separation through a multi-chamber sealing rail made of PVC
Can also be mounted horizontally to seal the top sash area
With additional parts suitable for burglar resistance RC2
Easy, invisible fixing due to existing screw holes
Sash tolerance range +-/- 3mm in both directions
Optionally available with additional sealing brush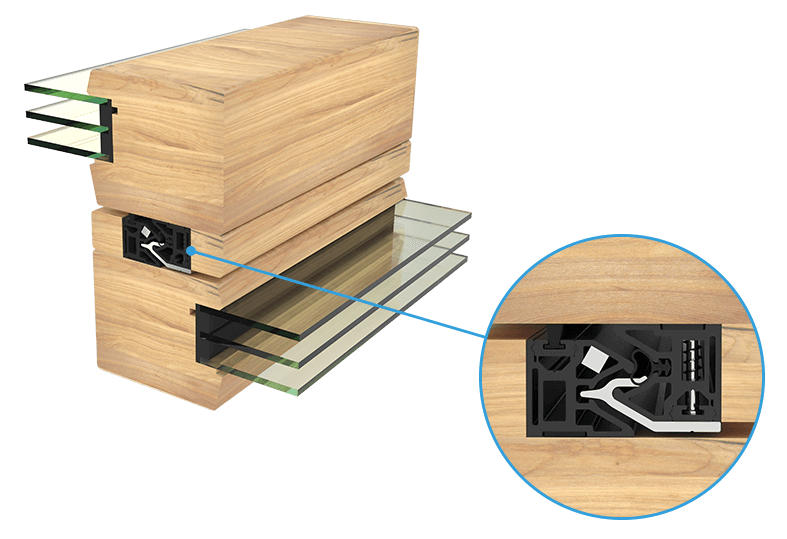 Sealing rail C:
Easily mounted, hard to crack.
Good compression and thermal separation thanks to a PVC profile with three chambers
Easy adjustment due to centre lock with compression adjustment
Large-scale seal compensates for manufacturing tolerances
For burglar resistance RC2 it can be combined with three security interlocks made of aluminium: Effective protection against prying your windows open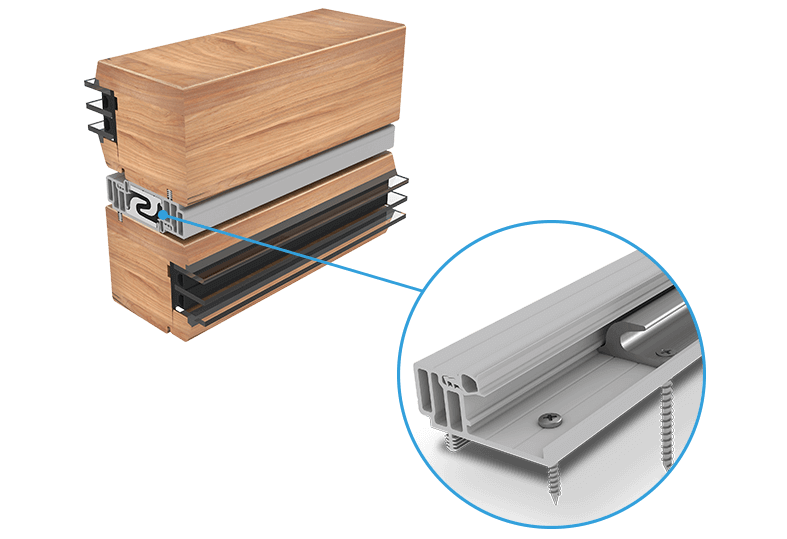 As safe and gentle as a modern kitchen drawer.
There is a safe solution for the simple operation of lift-slide systems: The innovative SOFT CLOSE function which can be invisibly integrated into the sash. The solution consisting of a guiding rail and a damper brakes the sash gently just before the end position and then pulls it shut automatically. This minimises any risk of injury in the case of improper operation and precludes any material damage.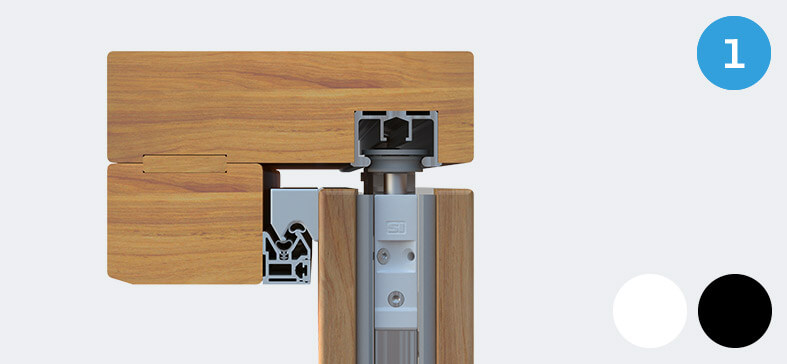 SOFT CLOSE guiding rail
Particularly smooth and gentle ease of use for a completely new sliding feeling thanks to the unique, integrated roller guide
Milled in flush for a perfect look
Also available in black for dark profiles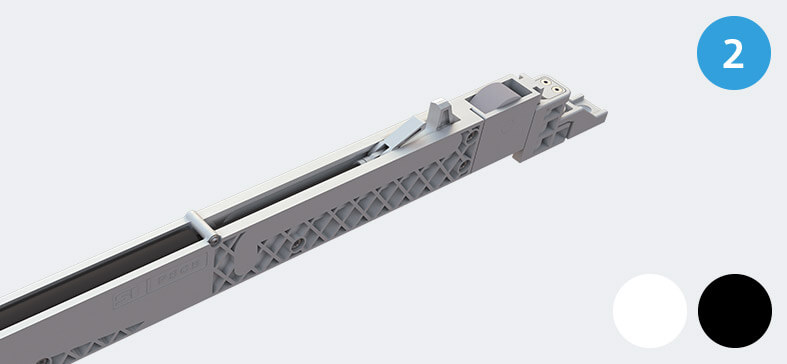 SOFT CLOSE damper
Prevents damage and injury caused by improper operation
Simple and intuitive operation: Faulty switching is excluded
No annoying adjustment or readjustment: spring mounted, it automatically adapts to every sash position and compensates for tolerances
Maintenance-free thanks to oil-lubricated gas pressure spring
Perfect design: Fully concealed solution
Also available in black for dark profiles
New stop buffer: elegant, discreet, easy to clean.
Virtually invisible because it is directly integrated in the guiding rail
Elegant, discreet appearance
Easy cleaning of the elements in the bottom profile area
Suitable for all SC guiding rails of the PORTAL HS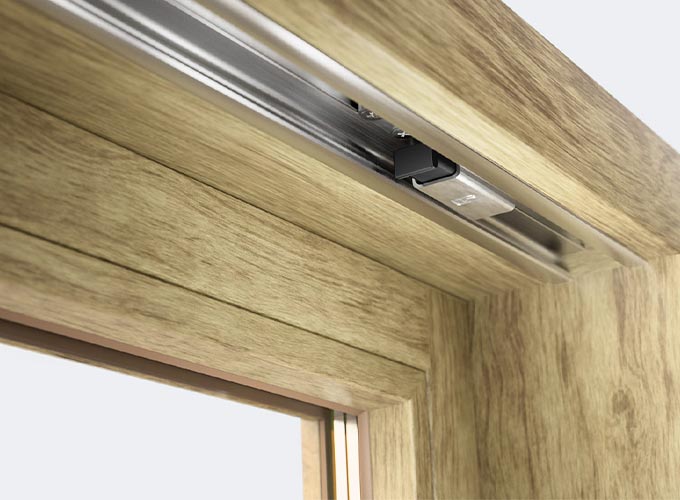 SOFT CLOSE works so easily
Product film
When moving large objects is child's play
Room comfort film