Sash components
TITAN AF timber
To achieve more with fewer components, quality is required. With TITAN, this is invested in unique product details such as the tried and tested comfort mushroom cam and the click-on coupling feature with fine toothing. But it also shows in every work step that is simplified or even omitted, thanks to TITAN. The clever system concept tightens your logistics and will lead you more quickly to success.
Sets new comfort and security standards with ease.
Modern TITAN gears set new standards with ease. In interaction with TITAN comfort mushroom cams they are the pivotal point for lasting high ease of use and consistent burglar resistance, but also the key to considerably greater efficiency. Because all components can be screwed into place perfectly and automatically due to their tolerance-insensitive clamping and then remain precisely and firmly seated for the long term.
TITAN comfort mushroom cam
Automatic tolerance compensation.
Continuous height adjustment: equalises air-gap tolerances and independently changes framework conditions, such as temperature fluctuation, therefore simplifying installation
Maximum ease of use due to an optimally adjusted, smooth-running and durable locking system at all times
Effective system setup with TITAN comfort mushroom cam: Fewer components and less warehousing for solutions up to RC2 and more
High intruder resistance can be achieved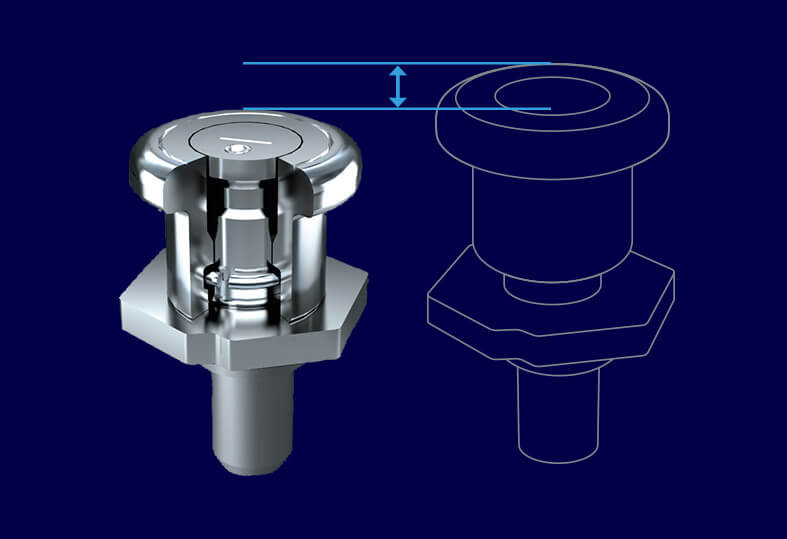 7 mm that save time and money.
Achievement of large glazed areas and narrow frame widths is possible
Unique eurogroove: with 7 mm only half as deep as in conventional solutions
Considerably lower volume of swarf and perceptible saving of time and money
Burglar resistance up to RC2 thanks to welded on striker plates with integrated blocking plate: The secondary sash is automatically locked together with the primary sash and is consequently protected
Optional handle extension on the secondary sash for even greater ease of use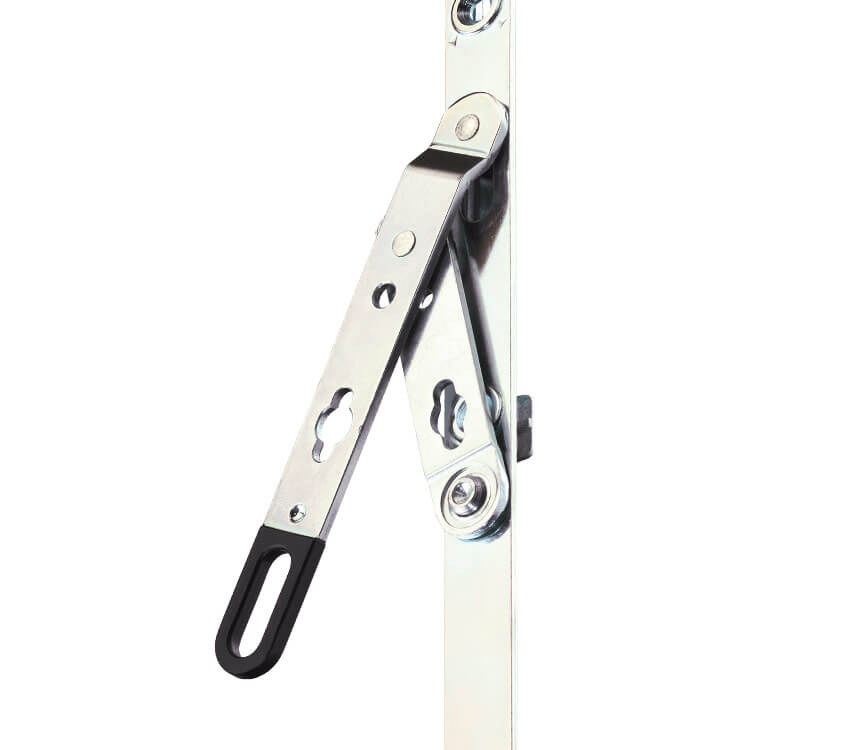 The multi-functional corner:
One component – wide range of benefits.
The multi-functional corner, which can be used for all sash sizes, is much more than merely a corner drive. Because it combines several functions in one single component and perceptibly provides greater comfort with minimum warehousing. Opening, tilting and closing is especially smooth-running because the sash is lifted early and cushioned to allow it to slide gently into the frame. Misuse is impossible!
1. Tilt lock
2. Locking part
3. Sash lifter
4. Mishandling device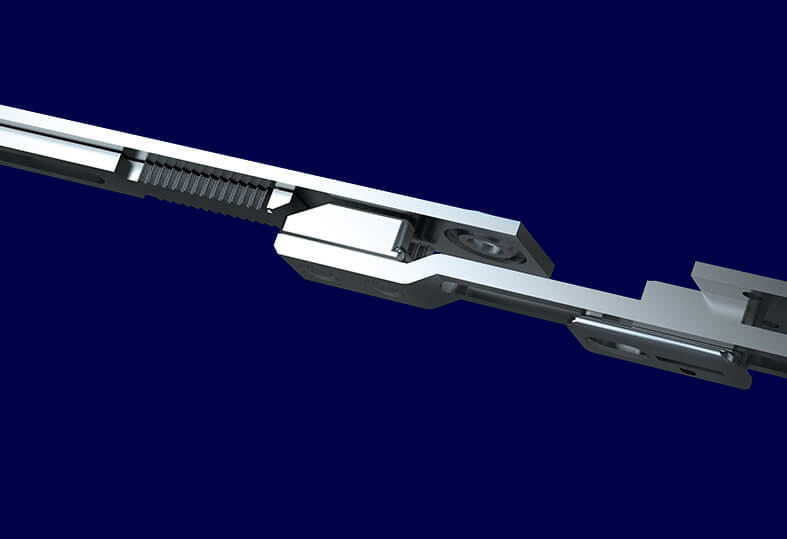 Click-on coupling feature
High precision fine toothing.Reduces the assembly and installation time by enabling a particularly easy and secure joining of the components – with less "play" and loss of stroke. RC1 and RC2 versions can be achieved without additional cutting processes.
Clamping
Insensitive to tolerance and automatically screwable.Effortlessly automated screwing is possible due to the reliable clamping of all components. Permanently secured positioning of hardware components is guaranteed.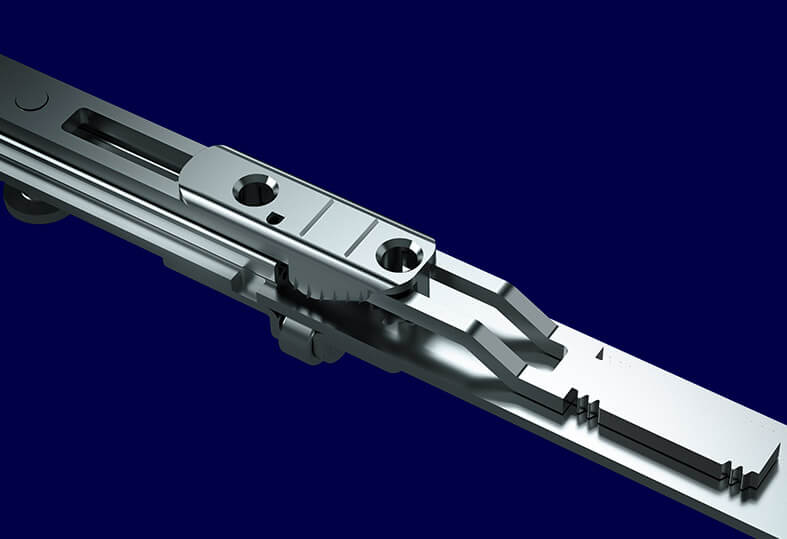 Sash play is impossible.
TITAN tilt-lock elements not only prevent a tensioning or "play" of the sash in all window sizes, they also offer the opportunity to retrofit a sash lifter.
No tensioning or sash play in all window sizes
Sash lifter can be retrofitted to achieve especially long-lasting windows with durably high ease of use
Controllable pressure adjustment for more compression
With integrated run-up and burglar resistance in tilt position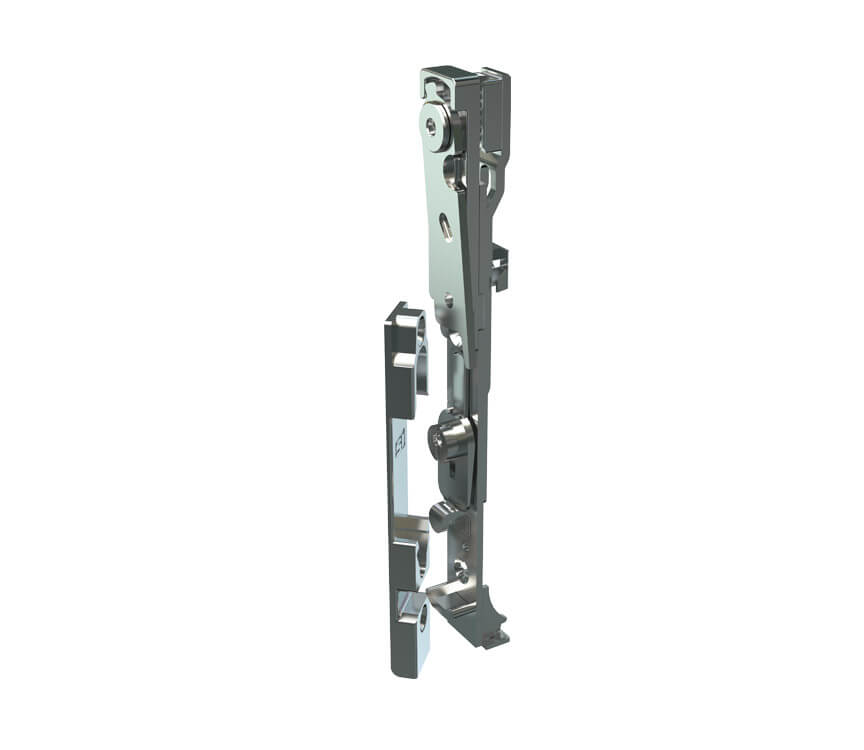 Draws better, brakes more gently.
Larger tolerances thanks to the smaller stay thickness
Optimal tilt stay lead-in in order to close even wide windows effortlessly, too
More load-bearing capacity and comfort with minimum wear: High-quality PVC slider and serial friction bushing for gentle sliding into the tilt position
Integrated anti-slam device in tilt position, which also cushions the stop
Shift interlock in tilt position prevents mishandling