ECO PASS sill installation
Certified complete solutions for ECO PASS thresholds.

Standard-compliant. Secure. Production-optimised.
The objective for our new connection options is clear: to decisively improve the complete sill installation for you. Simple fabrication and durably reliable. That's why we have developed high-quality connection solutions for our complete ECO PASS threshold range which are carefully coordinated with each other. They can be fabricated flexibly and in a time-saving manner, and are also secure and standard-compliant. Reliable compression which even meets the demanding test in accordance with ift directive MO-01/1.
The vertical seal. Two solutions. Always the safe choice.
Ideally equipped for every application. A new solution with the SIEGENIA connection flange is available in addition to the tried-and-tested design with vertical sealing plates. It makes the professional sealing of the building element simple and durably reliable, especially for applications with roller shutter guide profiles or timber-aluminium elements, for example.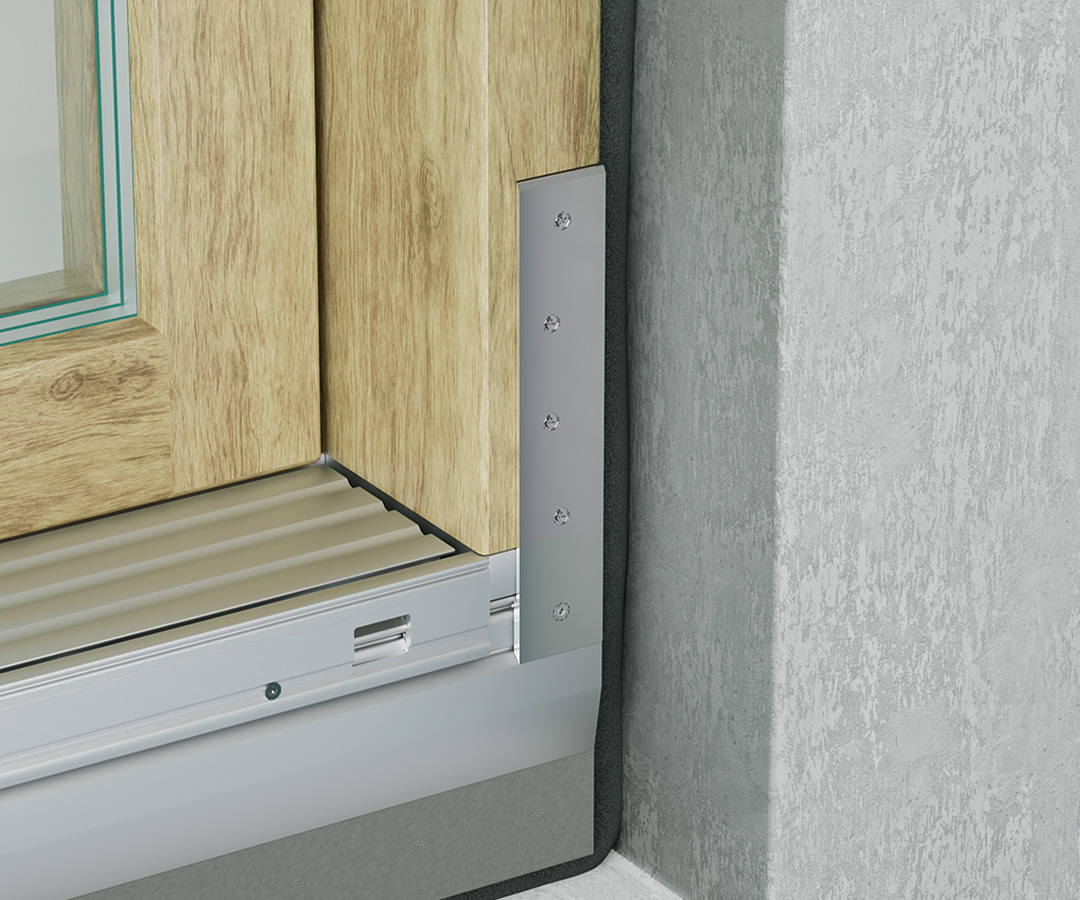 Solution 1:
vertical sealing plate
Perfectly coordinated: its great strength is its uniform base across the complete sealing area. This makes the combination of vertical and horizontal sealing plates extremely efficient and low cost.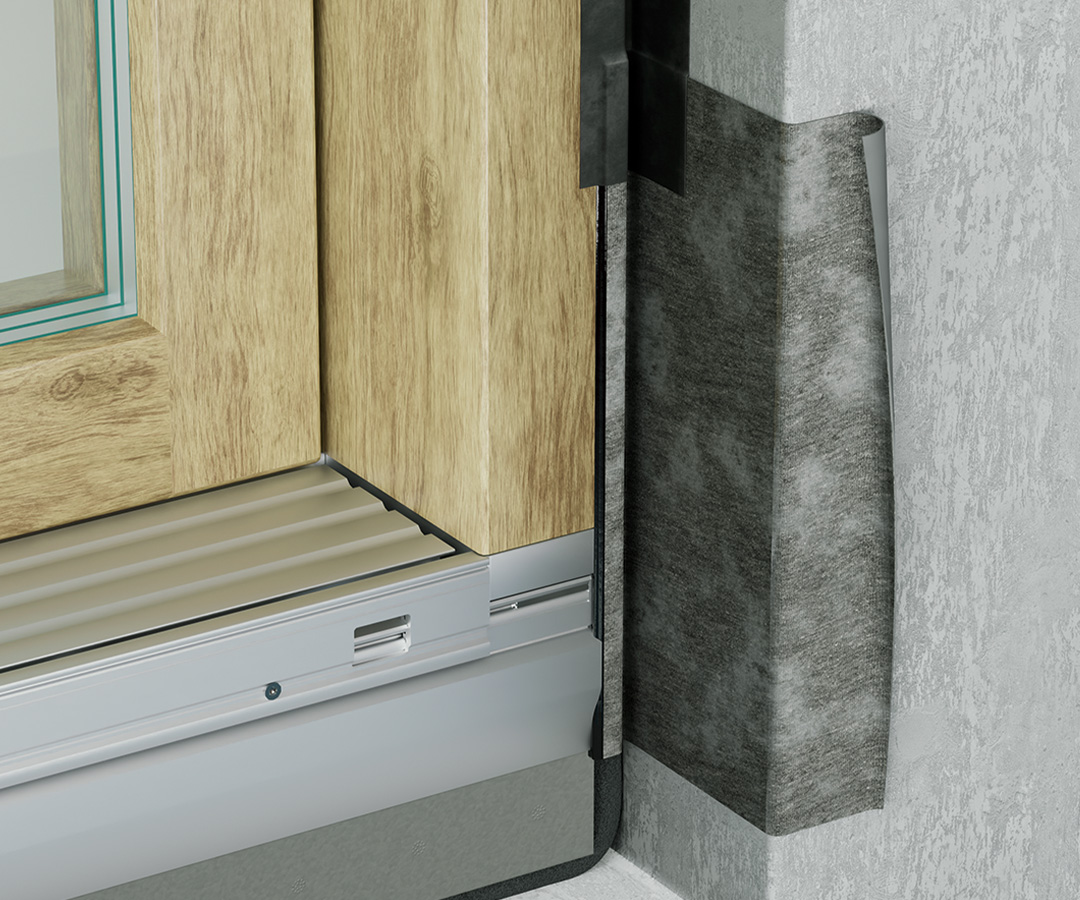 Solution 2:
SIEGENIA connection flange
Maximum flexibility: the seal ends at the connection flange, meaning that the narrow frame remains free from the seal e. g. for roller shutter guide profiles. Its well-conceived, practical design makes sealing extremely simple and facilitates the collaboration between the different trades.
The horizontal seal. Only one step for a process-reliable solution.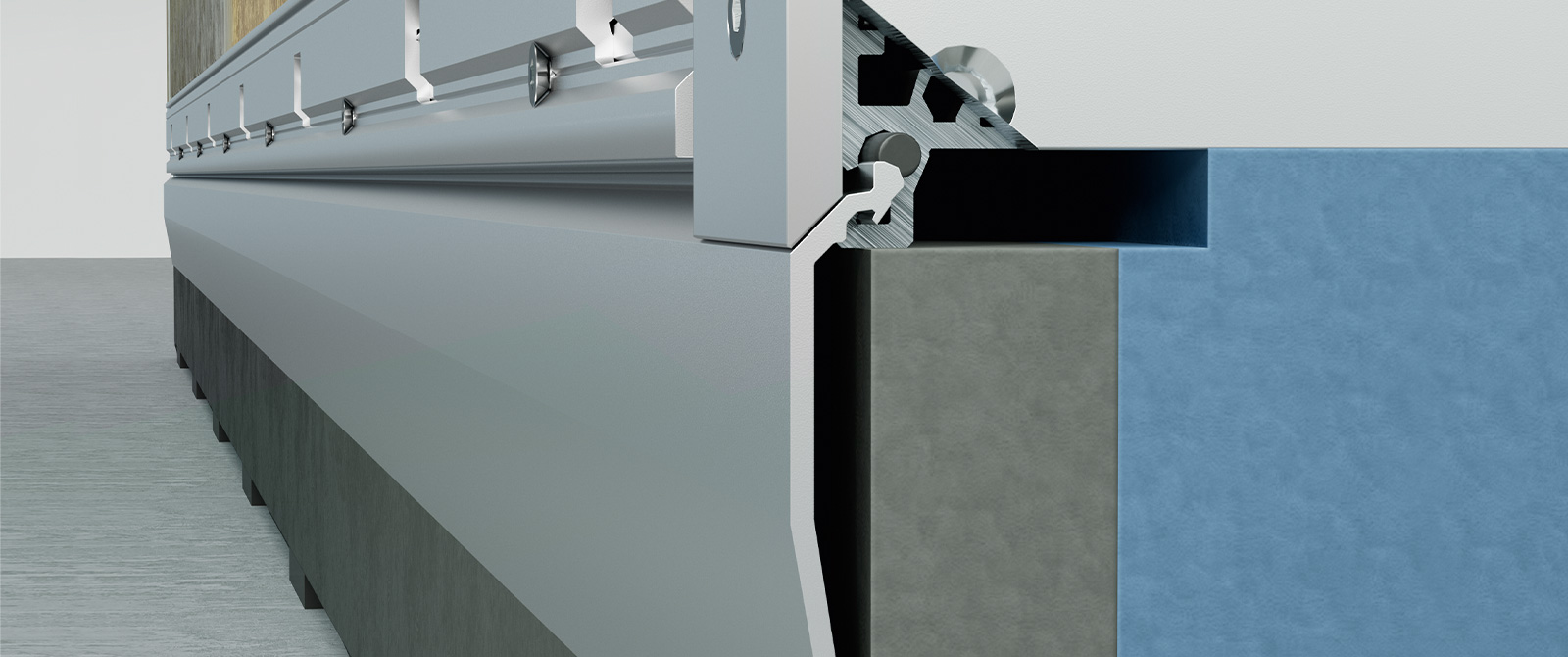 The optimised horizontal sealing plate is combined with one of the two vertical connection solutions. Its design, thought out to the last detail, ensures a time-saving and absolutely process-optimised finish: it is clamped into place with the rolled seal in one step and reliably prevents water from running diagonally into the wall.
Professional connection options for the sill installation
Assembly film
Energy efficiency and barrier-free systems as if from a single mould.

The first class thermally-insulated ECO PASS threshold for our PORTAL lift and slide elements in different versions: in the level axxent variant with 0-mm running rail, with 5-mm running rail and level threshold with 5-mm running rail and inclined step plate.