SENSOAIR plus
Intelligent air quality sensor for the control of ventilation units and motorised drives.

Automatically maintains a healthy indoor environment by CO2 and VOC control.
The SENSOAIR plus air quality sensor recognises many different pollutants in the room and automatically provides a regulated air exchange to improve the air quality – even before the recommended values have been exceeded and the human body starts to react. To this end, the wall-mounted device controls windows and wall-mounted ventilators or motorised drives via cable. Thus the SENSOAIR creates a holistically healthy indoor environment with permanently high air quality that you do not only breathe in, but that you can also see with a glance at the ventilation traffic light display on the sensor.
There is also a "smart" version of the SENSOAIR for integration in the SIEGENIA Comfort app and wireless control of drives and ventilators via WLAN:
Automatic improvement of the air quality for a healthy and comfortable indoor environment
Via two sensors it recognises a variety of room air pollutants:CO2, nicotine, smoke and unpleasant odours (VOC)
Demand-based, energy-saving ventilation: automatic control of ventilation units and motorised drives
LED indoor air quality (ventilation quality) display integrated in the casing
Intuitive operation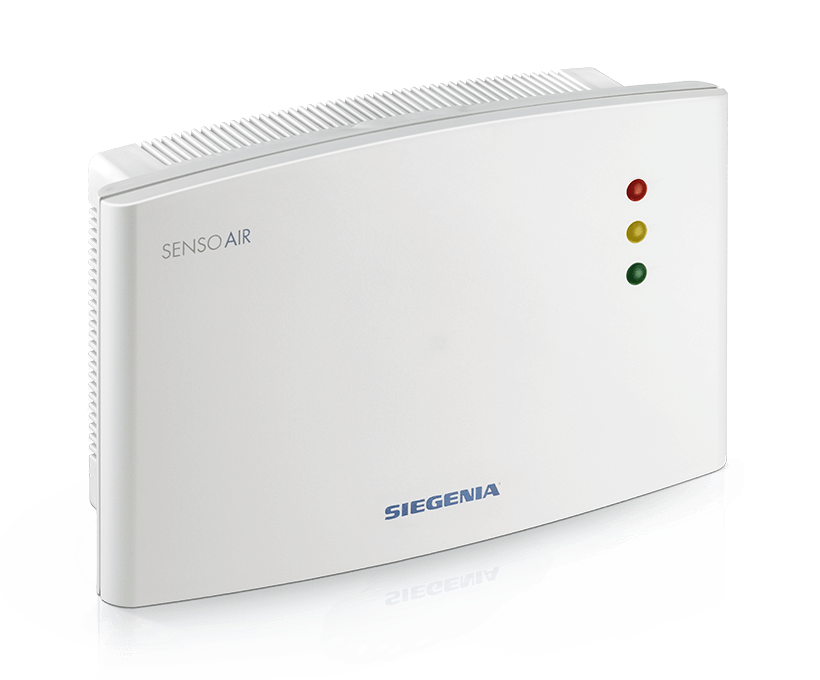 Automatic calibration
Easy and quick to install on the wall
Universally applicable thanks to conventional wiring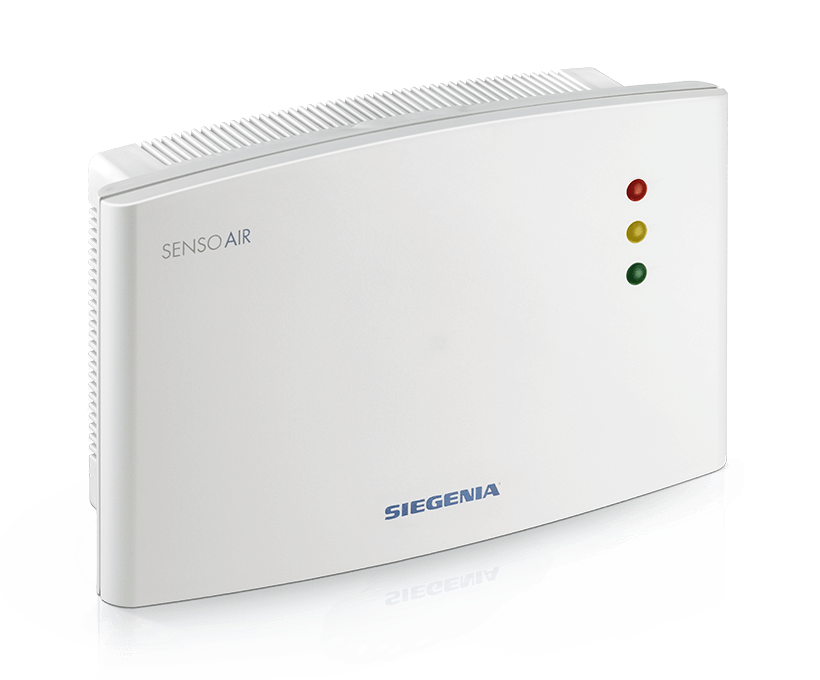 Dimensions W x H x D: 154 mm x 98 mm x 39 mm
Unit control: via cable
Measurement range of sensors: 350–3000 ppm (CO2 and VOC)
Supply voltage: 230 V AC / 24 V DC
Power consumption: 1.5 W
Casing: surface mounted, ASA; signal white RAL 9003