SENSOAIR smart
Intelligent air quality sensor with CO2 and VOC control for wireless activation of smart ventilation units and drives.

Simply a smart solution for a healthy indoor environment.
The SENSOAIR smart air quality sensor recognises a variety of room air pollutants and automatically provides a regulated air exchange to improve the air quality – before the human body can even react and the recommended values have been exceeded. To achieve this, the SENSOAIR smart, via WLAN and integrated in the SIEGENIA Comfort app, controls our modern "smart" devices: high-performance windows and wall-mounted ventilators or motorised drives. Thus SENSOAIR creates a holistically healthy indoor environment with permanently high air quality.
Automatic improvement of the air quality for a healthy and comfortable indoor environment
Via two sensors it recognises a variety of room air pollutants: CO2, nicotine, smoke and unpleasant odours (VOC)
Demand-based, energy-saving ventilation: automatic control of SIEGENIA "smart" ventilation units and motorised drives
LED display for indoor air quality (ventilation quality) integrated in casing
Intuitive operation – also by smartphone or tablet via the SIEGENIA Comfort app (from iOS 8.0 and Android 5.0) with numerous additional functions
Easily retrofitted, either as a table unit or wall-mounted, as it is a WLAN based Plug & Play device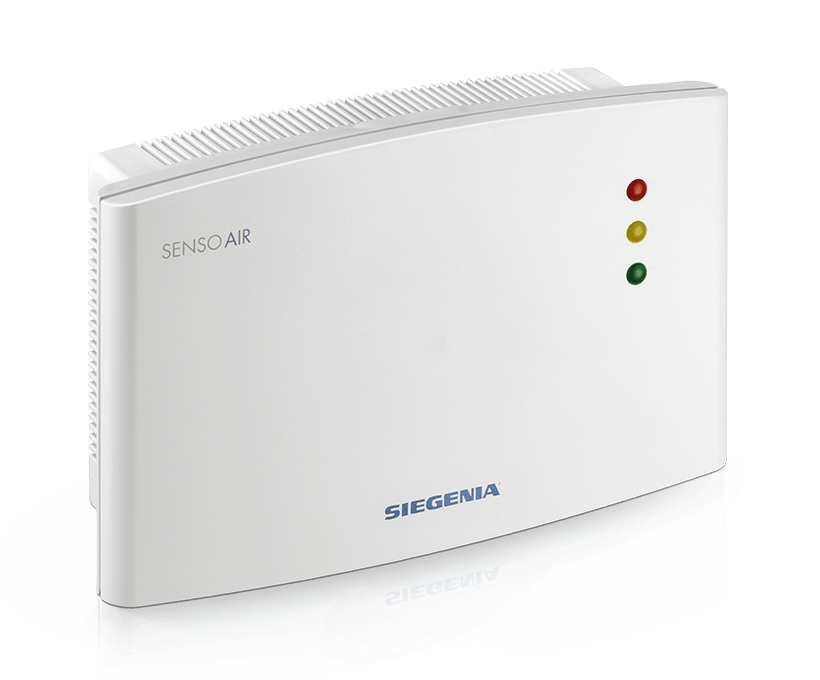 For universal use
Automatic calibration
Wall-mounted device: quick and easy to install
Table unit: ready for operation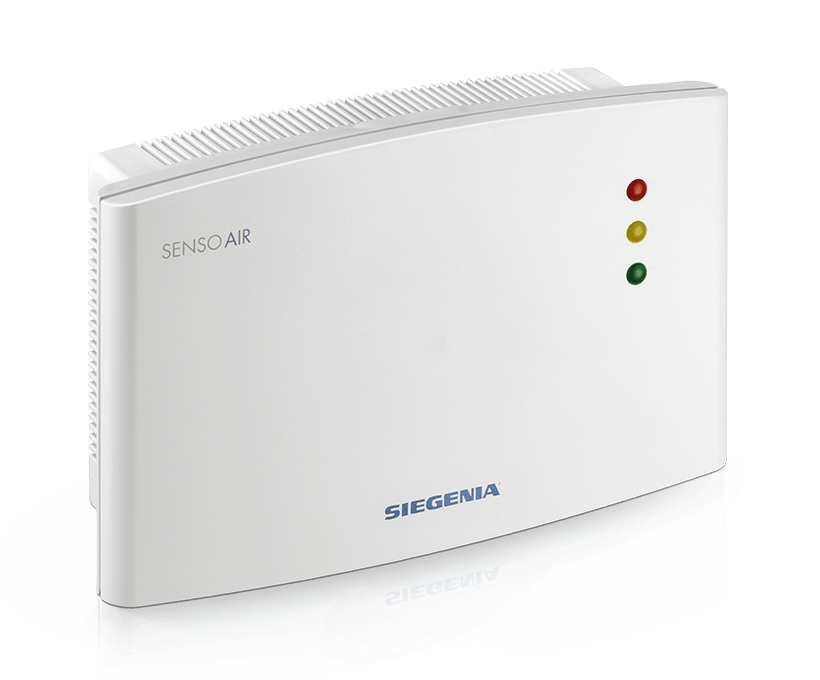 Dimensions W x H x D: 154 mm x 98 mm x 39 mm
Unit control: via WLAN
Measurement range of sensors: 350–3000 ppm (CO2 and VOC)
Supply voltage 230 V AC / 24 V DC (dependent on unit)
Power consumption: 1.5 W
Casing: surface mounted, ASA; signal white RAL 9003
Compatible unit:
AEROPAC smart
AEROMAT VT (WRG) smart
AEROTUBE smart
DRIVE axxent DK smart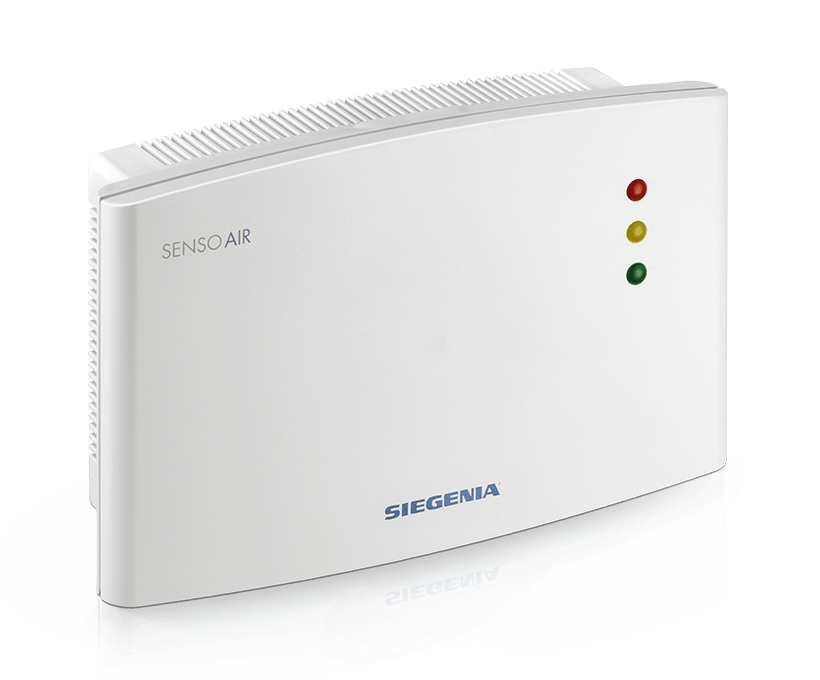 The benefits are in the palm of your hand: SIEGENIA Comfort app.
Controlled, demand-based ventilation is child's play with the SENSOAIR smart and our modern ventilation or drive systems. Not least thanks to the convenient control and networking via the free SIEGENIA Comfort app. With this you can always keep an eye on the air quality and you can hook up to several "smart" devices with one tap of your finger, for example, the DRIVE axxent DK smart tilt sash locking drive and the AEROPAC smart wall-mounted ventilator: this means that the SENSOAIR smart does not only automatically open the window in event of bad indoor air, but the AEROPAC smart wall-mounted ventilator also raises the supply air flow to stage 7.
Control via smartphone or tablet with the free SIEGENIA Comfort app
(From iOS 8.0 and Android 5.0)
Air quality display
Switch the LED display on/off
Simple coupling of SIEGENIA "smart" devices: windows and wall-mounted ventilators or motorised drives
Direct operation via the WLAN module (stand-alone mode) or extremely easy integration in the home network
Intuitive commissioning and connection to additional smart devices thanks to an installation wizard integrated in the app
Secure SSL encryption